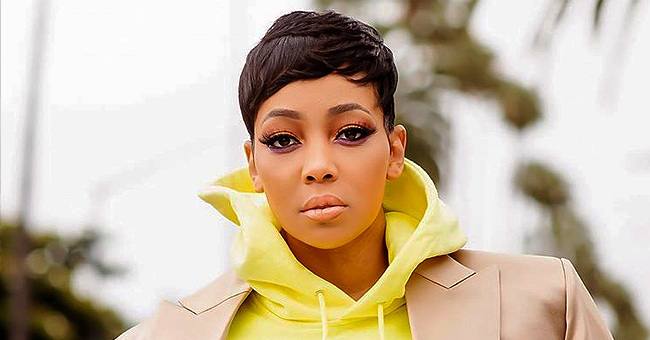 Instagram/monicabrown
Recently Separated Monica's Witty Clapback to Fan Criticizing Her Fashion Sense
Monica Brown has a lot going on in her professional and personal life, but that doesn't mean she'll keep quiet when people disrespect her on social media. The singer and reality star recently slammed a hater that criticized her fashion style, and she did it with a classy yet shady response.
Monica Brown is gearing up for the release of her new album "Chapter 38," and she recently posted a series of pics on Instagram to assure her fans she's ready for what's to come while working hard for it.
In the shots, taken on the street, the 38-year-old singer rocked a yellow hoodie, matching shorts, and a long patterned coat. She added a cap, sunglasses and black and white sneakers to the original ensemble.
However, some fans found the outfit "outrageous" and didn't hold back their harsh critics in the comment section.
CLASSY CLAP BACK
One user wrote "Sis you need to hire a new stylist," and earned a response from Brown, who shut down the critics subtly but effectively writing:
"Now now! Let's Be nice! I see your picture & would never blurt out my unsolicited opinion! I dress how I feel, as you should."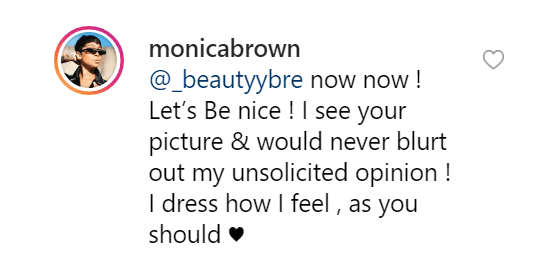 Monica fires back to a fan. | Source: Instagram/monicabrown
Monica's supporters were quick to have her back and praise her response. Like one user who said, "your style is everything, and you're beautiful! Love your response...."
And another who agreed,
"I love you girl, and this response is top notch....as you already know when they go low, you go high.....they must not know boo, how versatile you are.......Anywho!! Can't wait for this next album, I'm sure it's going to be fire just like your previous music....much love sis."
AN EMOTIONAL TIME
Monica has been basking in the joy of her renewed success after her comeback to the music industry this year.
She has released two singles: "Me+You" and "Commitment," and a music video directed by Teyana Taylor for the last one.
Although Brown's professional life seems to be on its way up, she can't say the same of her personal life as she filed for divorce from her husband of eight years, Shannon Brown, last March.
"I cannot lie. My personal relationship is taking a major toll on me. I'm feeling it every day."
Monica and Shannon tied the knot in November of 2010 and welcomed daughter Laiyah, on September 3, 2013.
They're also raising three sons Rodney, 13; and Romelo, 11, from Monica's previous relationship with rapper Rock; and Shannon's son Shannon Jr.
DEALING QUIETLY WITH A DIVORCE
Although Monica hasn't revealed the reasons that drove her to separate from Shannon and has chosen not to address the situation on social media, she recently opened up about the toll that the divorce is taking on her life in an episode of "T.I. & Tiny: Friends & Family Hustle."
"I cannot lie. My personal relationship is taking a major toll on me. I'm feeling it every day," she admitted. "I've been keeping everything to myself, and I feel overwhelmed."
Brown, who says she's "everybody's go-to" doesn't want people to believe she's perfect, but the fact that she keeps going without getting a pause or breaking down is because she believes if "you pause, you get stuck."
"I'm just gonna stay focused on my kids, make sure that nothing's changing how they feel, or making them uncomfortable and getting this record done," she told friend Tiny Harris in another episode of the reality show.
Please fill in your e-mail so we can share with you our top stories!