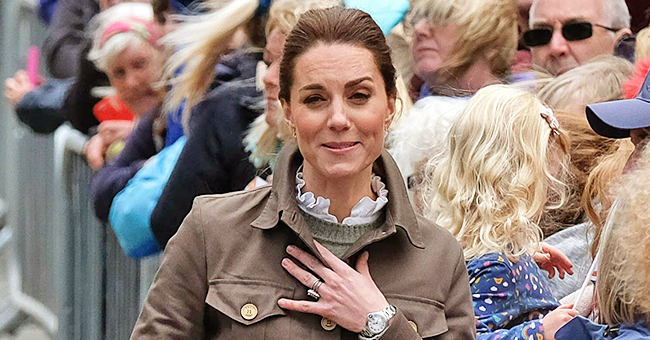 Getty Images
Kate Middleton Gets Asked Why She Didn't Wear Her 'Princess Elsa' Dress
On Tuesday, Duchess Kate visited Cumbria where she met some farmers and got to shear some sheep. However, there was one very pressing question that the Duchess needed to answer before going about her duties.
While in the English countryside with her husband Prince William, Duchess Kate, 37, received flowers from two Brown sisters. The video shared by the Twitter account The Royal Family Channel showed how shy the little girls were.
Despite this Kate made it a point to kneel down to their height and talk to them. She confessed to them: "I tried to do a plait on Charlotte this morning but it didn't really work very well."
The Duchess was referring to her second child and only girl while admiring the girl's French braid pigtails. The sister's father was on hand to try and coax the girl's to speak up.
He shared with Kate that they were very excited to meet a Royal. Speaking to the girl's the Duchess asked to shake their hands to thank them for the flowers.
He then encouraged them to do so and told them "It's a princess. You love princesses!" Taking matters into his own hands, the father told Kate: "She wanted to know if you'd be wearing your Princess Elsa dress."
He was referring to the animated princess character that featured on Disney's cartoon film Frozen. Without missing a beat the Duchess remorsefully replied: "I know. I'm sorry."
She explained further: "I came in my trousers and my coat because I'm going to see some sheep." The little girl's actually thought real princesses wear the same gowns seen in movies.
However, for the excursion to Deepdale Hall Farm Kate wore practical clothes. She came dressed in a Troy London UK Tracker jacket over a "pie crust" shirt.
She accessorized minimally with "Lauren" earrings by Kiki McDonough. The couple met representatives from the mountain rescue service and a drugs advisory group.
They also had the chance to visit a traditional mountain sheep farm. There they got their hands dirty by assisting to shear some sheep.
Last Monday, Kate actually did channel her inner-princess (although she is a Duchess) when she attended a state banquet to mark the start of President Donald Trump and First Lady Melania Trump's visit to the UK.
The Duchess walked into Buckingham Palace ballroom wearing a white textured gown. The dress featured capped sleeves, lace detail, and had a tiered ruffle design.
On her head, she wore her Cambridge Lover's Knot tiara and a blue sash signifying her honor as a Dame Grand Cross of the Royal Victorian Order.
Please fill in your e-mail so we can share with you our top stories!