Report: Tristan Thompson's Ex Claims She Was Paid $112k to Stay Single
Tristan Thompson reportedly paid  Jordan Craig $100,000 not to date other men even though he was already dating Khloé Kardashian.
Khloe Kardashian has been plunged back into the middle of a scandal thanks to Tristan Thompson.
Jordan Craig, the mother of Thompson's 2-year-old Prince claims that he cheated on her with Khloé while she was pregnant. Now the child support battle she is waging against the basketball player has brought to light even juicier details.
EXCLUSIVE REPORT REVEALS TRISTAN THOMPSON'S "BRIBE"
RadarOnline revealed some of the titbits garnered from an exclusively obtained deposition given by Jordan Craig.
Jordan testified that Thompson had given her  $112,000 in November 2017, and when questioned by his lawyer as to the motive of the gift, she dropped a bombshell.
"Well, if we really want to put this on here, that was part of a bribe," she said.
Thompson's lawyer contested Jordan's request for child support, accusing her of extravagance.
JORDAN CRAIG REVEALS TRISTAN THOMPSON'S DEMAND
Jordan was then asked whether she had accepted the bribe and in what conditions. 
"That he [Thompson] would help me if I wasn't, like, dating anybody or talking to anybody, and that I would have to come see him," she revealed.
At the time Thompson made this demand, he was already dating Khloé.
TRISTAN THOMPSON'S JUSTIFICATION
Thompson tried to explain away his bribe and his demand for "exclusivity" by claiming that he had only asked Jordan not to have "random men" in contact with his infant son.
JORDAN CRAIG ACCUSED OF "EXTRAVAGANCE"
Peter Lauzon, Thompson's lawyer contested Jordan's request for child support, accusing her of extravagance.
He revealed that Jordan had spent $16,000 to remodel Prince's room to look like a castle and a further $20,000 to build a pool for her son.
This, Lauzon claimed, despite the fact that Jordan still owes a substantial amount on her home. Jordan replied that all the expenses she had incurred had been with Thompson's agreement.
Jordan revealed that Thompson's relationship with Khloé which she claims had begun while they were still together and she was pregnant, caused her great distress.
A year later, in April 2018, Thompson would be caught cheating on Khloé Kardashian who was days away from giving birth to his daughter, True.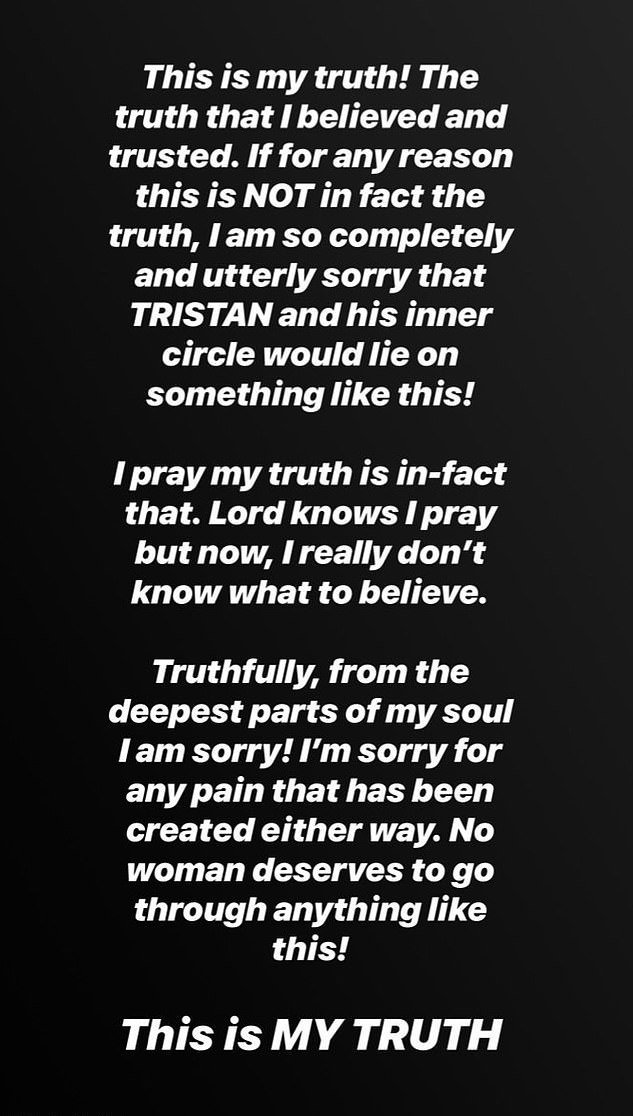 KHLOÉ KARDASHIAN DENIES TRISTAN THOMPSON CHEATED WITH HER
Khloé Kardashian has responded to Jordan Craig's claims that Tristan Thompson cheated with her with a post on Instagram.
Khloé denies having been involved with Thompson while he was still in a relationship with the expectant mother of his child. 
Thompson told Khloé when they met that his ex-girlfriend was pregnant, which made the reality star reluctant to get involved with him.
Khloé has revealed that in Thompson had her talk to people in his inner circle - including his lawyers - who assured the reality star that his relationship with Jordan was over.
Even though she believed at the time that Thompson was a free man, Khloé apologized to Jordan if she was misled and caused her pain.