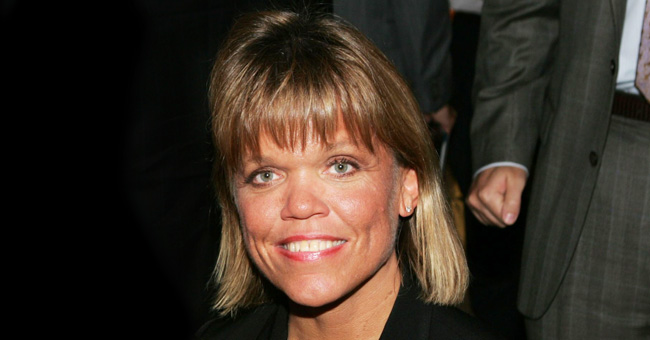 Amy Roloff of 'Little People, Big World' Shares Happy Photos of Her Trip with Boyfriend Chris Marek
Famous LPBW star, Amy Roloff excitedly took to social media to show off happy shots of herself and new beau, Chris Marek.
On June 14, the reality star shared three photos reminiscent of her fun trip with her lovely boyfriend. The first photo was a selfie taken by Amy as they drove through the countryside. Marek can be seen sitting right beside her, occupied with steering the car.
The couple looked mighty relaxed as they dressed casually. Amy, who looked makeup free, wore a tank top and Marek, a sky blue shirt and dark sunglasses. The second photo is quite beautiful and another taken by Amy.
It embodies natural perfection as it shows a grassy field and light blue skies. The third photo is a selfie of Amy outside a page grocery store which she revealed was situated somewhere on the outskirts of Walla Walla.
Amy and Marek have been on the road for days now; they set out on their cross country journey on Thursday, Popculture reported. The primary purpose of the trip, as stated by Amy, is mainly to visit some of Marek family. The mother of four looked delighted and her caption, adorned with a string of hashtags and emoticons, hinted so too as she related details about their trip.
"Road trip to Idaho. Going camping and meeting up with some of Chris's family. If you know me, I love road trips, Chris and I love it and small towns. Stopped by the little town of Dixie, just outside Walla Walla. #roadtrips #amyroloffssecondact #travelswithamyandchris #camping," she wrote.
The shots are only three days old but have already garnered well over 40,000 likes and about a thousand comments! While a significant number of the remarks compliment the lovely duo, an even more substantial amount is rather hateful. Some also label the star selfish because her mother is currently in the hospital.
A few others don't particularly favorite Amy and Marek being together. Thankfully, Amy still has fans who are ever ready to defend her at times like these.
One such fan, @carolsue422 wrote:
"Some of the comments in this thread are classless and downright embarrassing. So nasty. Makes me sad. I live on Idaho Amy! It is a fantastic place. Enjoy the beauty Idaho has to offer."
Another @hlorscheider09 implored Amy to ignore the negativity and enjoy her trip.
"I hope you don't let the negativity get to you. You enjoy your beautiful road trip," the supportive fan wrote.
Following Amy's widely publicised divorce from her husband of many decades, Matt Roloff, dating Marek is a significant update when it comes to Amy's love life. Surprisingly, even Matt, who is also currently in a relationship, thinks so too! Even Amy was thrown off by this when the two men spent some quality time together "bonding."
Please fill in your e-mail so we can share with you our top stories!