Tristan Thompson's Ex Allegedly Claims He Spent Thousands on Khloé K. but Ignored Son
Jordan Craig, the mother of Tristan Thompson's 2-year-old son, is claiming in new court documents that the NBA player saw the boy only nine times in two years, and meanwhile, he was spending a fortune on now ex-girlfriend Khloé Kardashian and her family.
The drama surrounding Khloé Kardashian's relationship with Tristan Thompson keeps unraveling as Thompson's first baby mama, Jordin Craig, reveals details of their alleged love triangle.
According to court documents obtained by Radar Online from a child support deposition Craig filed in January, the 27-year-old model has made several controversial claims about her relationship with Thompson, his relationship with their son, and Khloé Kardashian's role in separating their family.
NEGLECTING PRINCE WHILE SPLURGING ON HIS GIRLFRIEND
Craig claims that Thompson only saw their son Prince nine times from the day he was born in December 2016 to November 2018. Meanwhile, he was dating Khloé Kardashian and spending a lot of money on her and her famous family.
"I would like to be able to provide things that Tristan provides to that child. The lifestyle of that child should be the same for my son."
A
financial report
from Thompson reveals that he spent over $65k in several items that had titles like "Khloe K," "Kendall Jenner, Inc." and "Kim K West."
During a January 28, 2019 deposition in their child support case, Craig's attorney Craig Bridwell questioned Tristan about an August 15, 2018 entry for $42,857.68 under the "Khloe K" subhead; an August 24, 2018 entry for $14,886.88 labeled "Kendall Jenner, Inc" and a November 6, 2017 entry for $7,980 titled "Kim K West" with a note adding "Birthday Gift."
At the time, Thompson was paying Craig $15,000 in child support, but Jordan argued that the amount was too low in comparison to what he should've been paying according to California legal guidelines.
Thomson also allegedly spent over $129,000 on private jets, $273,638.62 between airfare and hotels, and hundreds of thousands more on vehicles, jewelry and fancy hotspots for dates with Khloé.
CRAIG WANTS TRUE'S LIFESTYLE FOR HER SON
The Cleveland Cavaliers player defended himself by stating he also took care of Prince and bought him "multiple items and gifts," because "anything a boy needs, he should have."
However, Craig fired back stating that she feels her son is not getting the same luxury life from Tristan that his half-sister True Thomson gets from her family. (True is Tristan's daughter with Khloé K.)
"I would like for Prince just not to feel some type of complex," Craig said. "Like if he's playing with his sister and he's not wearing, like, designer clothes and things — luxuries that Tristan can give him that I can't."
When Peter Lauzon, Tristan's attorney, asked Jordan how is she so sure Tristan is the one paying for True's luxuries, the model fired back saying:
"It doesn't matter … The child is living a lifestyle where parties are thrown. So, my point is, these are luxury things that I'm not able to afford for my son. So, you ask what else I would like. I would like to be able to provide things that Tristan provides to that child. The lifestyle of that child should be the same for my son."
Last month, Thompson agreed to give Craig $40,000 per month, plus $200,000 in retroactive child support.
EXPLOSIVE DECLARATIONS
Elsewhere in her deposition, Craig accused Tristan of cheating on her while she was expecting their son Prince.
The model states Tristan started dating Khloé Kardashian barely a month after discovering Jordan was pregnant. She also claims that Thompson denied his involvement with the reality star at first, but Craig then saw paparazzi photos of the pair, and that's when she moved to her parents' house.
Craig also revealed that the public's thirst for Thompson and Kardashian's relationship, and the thousands of headlines generated because of it that painted her as the poor-betrayed-baby-mama, caused her a lot of stress and led to some pregnancy complications.
KHLOÉ'S  TRUTH AND APOLOGY
After Craig's declarations went public last week, Khloé Kardashian took to Instagram to address the situation.
She stated that Tristan went as far as to have her talk with his lawyers and inner circle to assure her that his and Jordan's relationship was over long before Khloé came into the picture.
"This is my truth. The truth that I believed and trusted. If for any reason this is NOT in fact the truth, I am so completely and utterly sorry that TRISTAN and his inner circle would lie on something like this," Khloé wrote.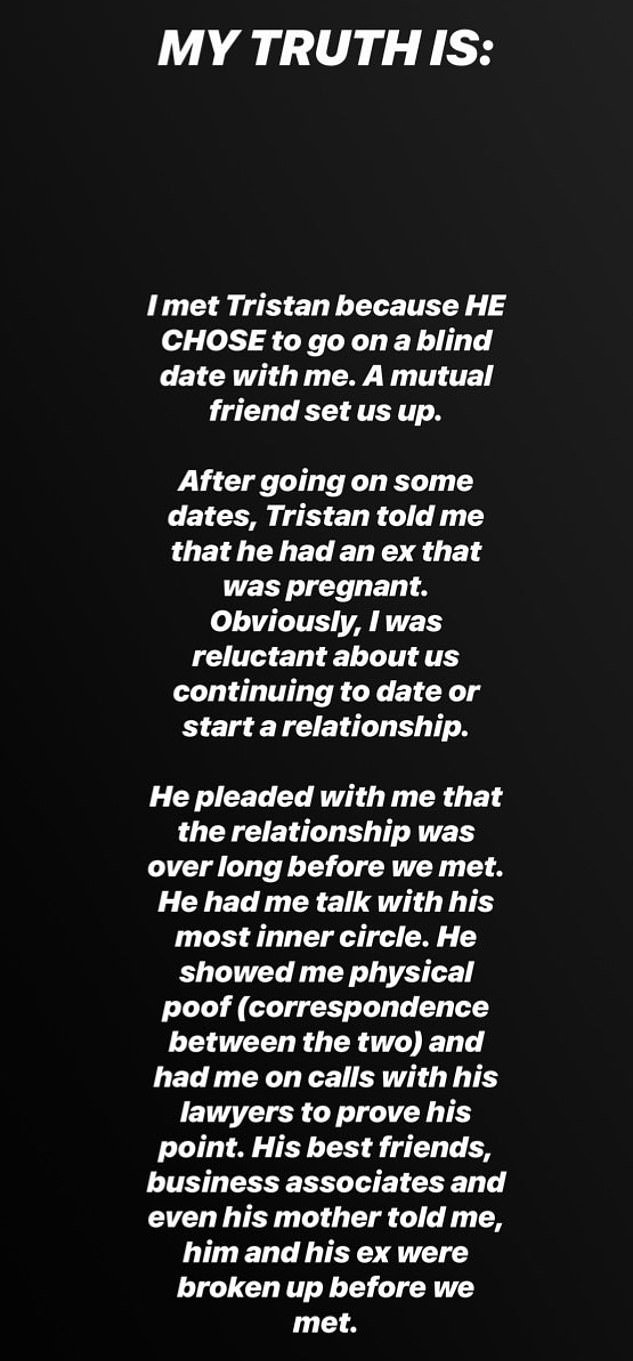 The 34-year-old continued:
"Truthfully, from the deepest parts of my soul, I am sorry! I'm sorry any pain that has been created either way. No woman deserves to go through anything like this! This is MY TRUTH."
ONCE A CHEATER, ALWAYS A CHEATER
On an ironic twist of events, history repeated itself when Khloé also became a victim of Tristan's womanizer ways.
Barely two days before Kardashian gave birth to their daughter True, reports and photos of Tristan kissing and groping other women came to light.
However, Khloé decided to forgive Tristan and move on for the sake of their newborn girl.
Then, in February 2019, Khloé and Tristan split for good after he was accused of cheating once again, this time with Kylie Jenner's best friend, Jordyn Woods.
Most fans seem to agree on one way to describe this messy situation: what goes around, comes around.