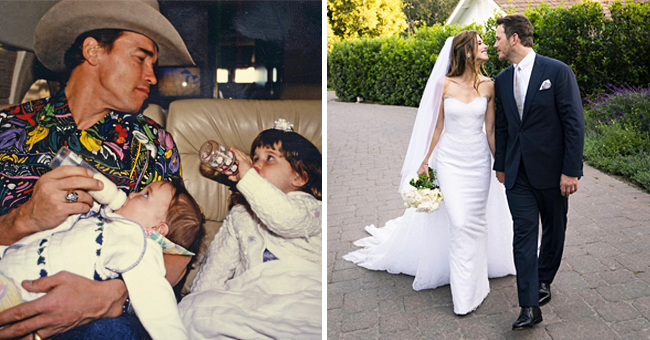 instagram.com/katherineschwarzenegger
Arnold Schwarzenegger's Daughter Katherine Shares Heartwarming Throwback Photos on Father's Day
Newly-wed Katherine Schwarzenegger celebrated Father's Day this weekend by sharing adorable "throwback" photos of Arnold Schwarzenegger on Instagram.
The 29-year-old Katherine wished Arnold a happy Father's Day on June 17, 2019, and wrote in the caption:
"Happy Father's Day daddy! I love you so much (even when you feed Maverick from the table)!"
FATHER AND DAUGHTER
The first photo in the series of five shows Arnold looking at Katherine while feeding a bottle to one of her younger siblings.
Another photo shows Arnold and Katherine swimming with dolphins, while yet another shows a teenage Katherine pulling faces for the camera while hiding behind her father.
Katherine is the oldest of Arnold's four children with ex-wife, Maria Shriver.
The last photo in the series was taken more recently and shows Arnold feeding the family's dog, Maverick, from the dinner table.
KATHERINE'S CAREER
Katherine is the oldest of Arnold's four children with ex-wife, Maria Shriver. An acclaimed author and broadcast journalist, she wrote her first book at the age of 19.
Her first book was titled "Rock What You've Got: Secrets to Loving Your Inner and Outer Beauty from Someone Who's Been There in Back."
Four years later, she published "I Just Graduated ... Now What?: Honest Answers from Those Who Have Been There," followed by "Maverick and Me" in 2017.
KATHERINE'S FAMILY LIFE
Katherine also wished her husband, "Guardians of the Galaxy" star Chris Pratt, a happy father's day. She explained that his loving nature was one of the reasons she fell in love with him:
"Happy Father's Day to my wonderful husband. Watching you be such a hands-on and loving father was one of the many reasons I fell in love with you, and continue to each day. I love you."
Katherine and Pratt tied the knot earlier this month. The couple began dating in June 2018 and announced their engagement back in January.
Pratt shares a son with his ex-wife, Anna Faris. The couple tied the knot in 2009 and welcomed their son in 2012. They filed for divorce in 2018.
Please fill in your e-mail so we can share with you our top stories!