Matt Roloff Fires Back at Claims He Treats Girlfriend Caryn Chandler Better Than His Ex-Wife Amy
Matt Roloff's response to a claim that he treats his girlfriend, Caryn, better than he did his ex-wife, Amy, is nothing but epic and a testament to his character.
The reality TV star, and head of the Roloff family, Matt Roloff, has shown over time that he has mastered the act of clapbacks on social media, and he does it in a polite but firm way.
THE CLAIM
Matt came under fire after he posted a photo of himself and his girlfriend, Caryn Chandler, on Instagram during their visit to his daughter, Molly, and her husband, Joel.
The reality star and his girlfriend joined his daughter and son-in-law at their home in Spokane, Washington, during the Father's Day weekend, and on his social media account, he called being able to spend a day with them "A Blessing."
It turned out that one of Matt's followers, Margaret McLeod, was not thrilled about the star's "Blessing" as long as it had Chandler in the picture. Margaret expressed her displeasure at the father-of-four's happiness with the words, 
"Had you treated Amy the way you treat Caryn, maybe your marriage wouldn't have hit the rocks."
THE EPIC RESPONSE
Matt, who does not tolerate negative comments on his social media accounts, wasted no time in addressing the claim and setting the record straight.
The LPBW star responded,
"Margaret, if only you knew. Unfortunately, I'm not one to talk about anyone, especially the mother of my children. But if you had any more facts that are missing, you would see things in an entirely different way."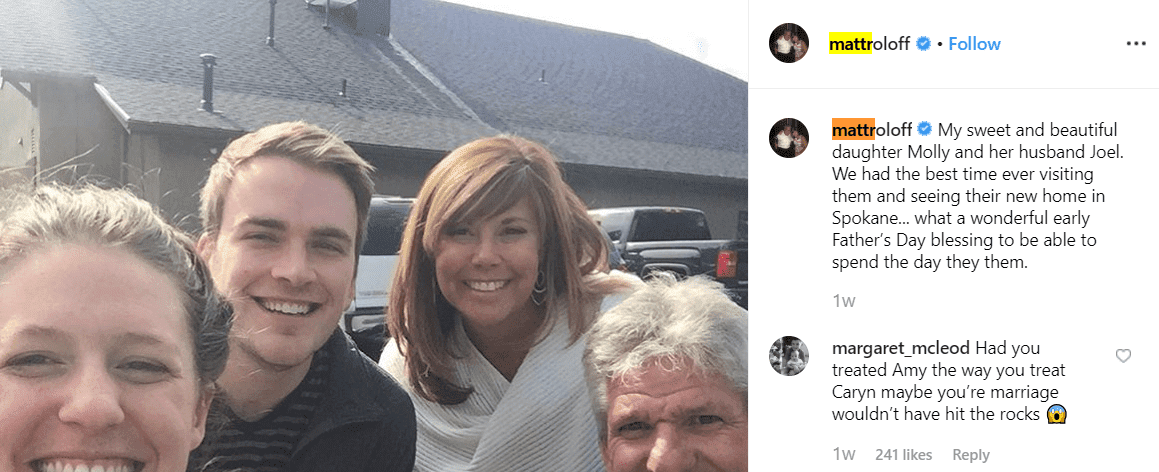 The reality star was not alone in his response; his fans wrote that he should not have responded to the claims, and they asked that the head of the Roloff family enjoy his life.
THE FREEDOM TO DO WHAT HE WANTS
The "Little People, Big World" star was married to his ex-wife, Amy Roloff for 28 years, and recently, she decided to sell her half of the farm where Matt's house is.
Fans assumed this meant that the mother-of-four would no longer live on the farm, but the Roloffs' patriarch explained on Instagram that they still co-own the main property, and she'll continue to live there.
Many called Amy selfish and controlling for her decision, but in the end, the reality has shown she is neither, and Matt is finally free to do with their old house what he wants.