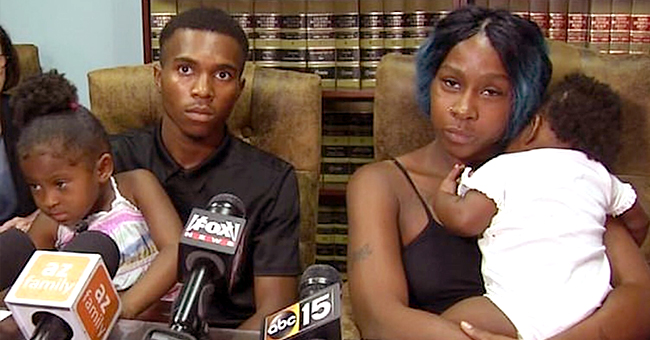 Twitter/THEAlleyeceeing
Phoenix Family Speaks out after Controversial Police Arrest Video Went Viral
A young black Phoenix family was brutalized by Police after their 4-year-old daughter shoplifted a doll without their knowledge.
Davon Ames and Iesha Harper were in their car outside their babysitter with their 4-year-old daughter and their 1-year-old baby when they were confronted by Phoenix police officers.
The brutal scene that ensued was captured by bystanders and has led to a lawsuit against the Phoenix Police department.
"I thought something bad was going to happen to me and my children. I thought I was going to be shot, like he told me." Iesha Harper
POLICE BRUTALIZE FAMILY FOR SHOPLIFTING
The Police were responding to a complaint of shoplifting by a Dollar Store that the family had been in a short time before. The shoplifted item? A $1 doll the 4-year-old had taken unbeknown to her parents.
The video captured a police officer standing in front of the car holding a gun and screaming at the pregnant Harper to put her hands up and get out or be shot.
Civil rights activist Reverend Jarrett Maupin appealed to the police department to take action
VIDEO OF POLICE VIOLENCE GOES VIRAL
The video of the police screaming at a pregnant woman to put her hands up when she was holding her baby and threatening to shoot if she didn't comply has gone viral.
PHOENIX POLICE APOLOGIZES
Phoenix Police Chief Jeri Williams publicly apologized to the community and family for the incident, but the officers involved are still working and have not been censured. The family has refused to accept the apology.
"We're aware of apologies. Honestly, it really hasn't done anything to help us...it feels like it's a half apology," Ames said.
FAMILY MAKES ANNOUNCEMENT AT PRESS CONFERENCE
The family's lawyer, Sandra Slaton, announced at a press conference that they would be filing a $10 million lawsuit against the city.
Civil rights activist Reverend Jarrett Maupin appealed to the police department to take action, and sincerely apologize to the family.
For Ames and Harper, dealing with their 4-year-old's fear and trauma has been heartbreaking.
"I always taught my daughter to depend on the police. She had to find out herself she cannot depend on the police," Harper said.
Anyone who has viewed the clip of the police's actions against the young family will find it hard to find any sort of justification for such brutality, profanity, and viciousness. What will a jury think?
BLACK TEEN WON SETTLEMENT FOR POLICE BRUTALITY
Dajerria Becton was violently arrested by a policeman at a pool party in 2015, and the incident was caught on video.
The video showed several police officers running behind teens at a pool party in McKinney, Texas.
One of the officers body slammed the then-15-year-old Becton to the ground with his knee on her back.
When one of her friends tried to help her, the officer drew his gun and menaced him. Then he brutally handcuffed the supine Becton.
The Becton family filed a lawsuit against the officer and the city in federal court seeking $5 million in damages. The court found for Becton, and she has vowed to have a pool party to celebrate the victory - preferably without Police intervention.
Please fill in your e-mail so we can share with you our top stories!