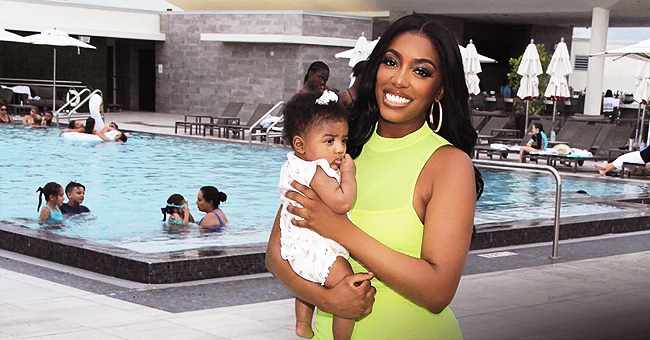 Instagram/porsha4real
Porsha Williams Shares Vacation Pics with Baby but Fiancé Dennis McKinley Is MIA
Porsha Williams and her daughter Pilar Jehna look adorable in new pics shared by the reality star from their Father's Day vacation in Florida. The pics come amid cheating allegations against Porsha's fiancé, Dennis McKinley, who wasn't present at the getaway.
It's been a couple of rough weeks for Porsha Williams, but the reality star found solace by meeting with her family and friends in a well-deserved vacation at the newly opened Costa Hollywood Beach Resort in Hollywood, Florida.
FUN IN THE SUN
The "Real Housewives of Atlanta" star took to Instagram to share a series of pics from her weekend posing alongside her 3-month-old baby girl, Pilar Jehna.
In the shots, Porsha is rocking a neon yellow tight dress while posing by the pool with PJ in her arms. The tot rocked a white onesie with a cupcake pattern and a cute bow pin on her curly hair.
"Finally got to take a much-needed vacation with my family. Thank you for the all-new @costa_hollywood_beach_resort in Florida for making our stay so great! Perfect relaxing, destination for families or couples," Williams captioned one of her posts.
Fans of the reality star were quick to point out the absence of two essentials in Williams' life: her fiancé, and her engagement ring.
CHEATING ALLEGATIONS
Williams and McKinley's relationship seems to have come to a halt after YouTuber Latasha Kebe shared a video accusing the businessman of cheating on Porsha with "WAGS Atlanta" star Sincerely Ward.
"If you love someone and you make a mistake, or he makes a mistake, or whatever's going on, you gotta make sure that y'all are good at the end of the day."
McKinley denied the allegations in a statement given to US Weekly, revealing that he was planning on taking legal action against Kebe for making "false and slanderous allegations against me [that] are made solely to damage my reputation, jeopardize my ongoing businesses, and negatively impact my family."
Ward also slammed down the accusations, telling Page Six that she has never met McKinley.
"Number one, I know Porsha, and I respect Porsha, and I would never be involved in this kind of trash," Ward claimed. "Number two, I've never met this guy a day in my life … I don't know how my name got thrown into it."
"In Atlanta, it's easy to have 6-degrees of separation [but] to my knowledge; I don't even know if we've ever been in the same room together," Ward added in an interview with E! News.
TROUBLE IN PARADISE
The cheating rumors emerged just a few days after Porsha sparked speculation about a split from McKinley when she momentarily unfollowed him on Instagram, even though she followed him back a day later.
Williams has been ambiguous with her intake on the situation, neither admitting or denying that McKinely cheated, or even if they're still a couple.
Talking at the American Black Film Festival in Miami, Porsha explained to the audience why she was refraining from addressing the rumors all over social media.
"I'm pretty much doing everything in my own time," she said. And continued:
"Not that there's anything I'm trying to hide or run away from, but if you love someone and you make a mistake, or he makes a mistake, or whatever's going on, you gotta make sure that y'all are good at the end of the day."
Williams went on to say that she will always have love for McKinley since he's the father of her child.
"We absolutely go through our ups and downs together. And I still thank God for the blessing I claimed a year ago," Williams stated.
SAVING FACE
Although McKinley wasn't with Williams and their daughter on Father's Day, the "Dish Nation" host made sure to send him a heartwarming message through Instagram stating that it's beautiful to witness the bond he has with little Pilar.
Fans were quick to assume that the short but sweet message, and the fact that Porsha called her fiancé by his first name and not the usual pet name, were clear signs they're no longer a couple.
One user wrote:
"Yep!! They not together anymore. That was that co-parent Fathers Day S/O frfr!! I was really hoping that the rumors were not true because y'all were such a beautiful couple to watch grow!! Dennis really needs to come through and win your heart again!!"
Another agreed:
"Uh... oh! He's "Dennis"?!! He's in trouble! It's usually fiancé or baby! She's petty, petty! You knew he was using your name and you wanted a baby and security for your baby! Y'all even!"
And a third one added: "Bloop. This is the 'I'll take the high road and wish you a happy father's day, but you know what it is, and be lucky you got this' post."
Williams is yet to reveal the current status of her relationship with Dennis, but as of now, she's focusing on enjoying her baby girl.
Please fill in your e-mail so we can share with you our top stories!