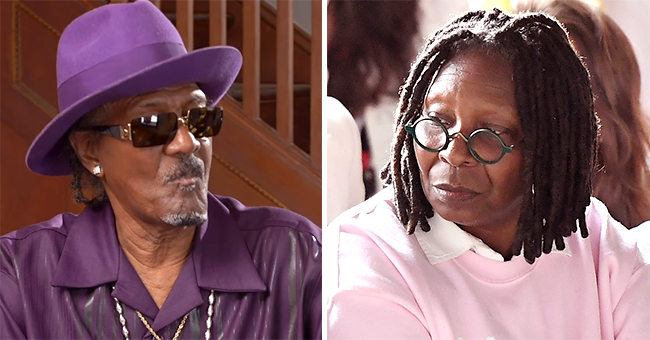 Getty images ; Youtube/djvlad
Why Whoopi Goldberg Almost Shot Pimp-Turned-Blues Man Fillmore Slim
Hell hath no fury like an angry Whoopi Goldberg! Fillmore slim recounts the day he almost got shot by Goldberg, and what led to it speaks a lot to her character.
In the '70s, before blues legend, Fillmore Slim, served a five-year prison sentence for trying to buy fake passports, he had reverence in his San Francisco neighborhood, and many knew to stay out of his way.
During that time, actress and talk show host, Whoopi Goldberg, lived in the same neighborhood that Fillmore controlled as a pimp, but the two never came across each other until one fateful day that could have changed both their lives.
The blues legend in an interview with Vlad TV revealed what led to the hostile dispute that almost cost him his life. According to the singer, he was using a phone booth when the actress arrived to also use the same phone.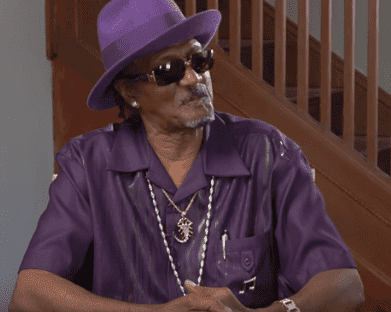 Blues legend Fillmore Slim recalled an altercation that happenedbetween him and actress Whoopi Goldberg yeas ago. | Photo: YouTube/VladTV
At the time, Whoopi was studying to be an actress, and the singer recalled that she wore a military outfit, which made him think she might be in the military. The thought did not deter Fillmore, and in the course of a heated argument, he "straightened" the TV host out, implying that he hit her.
The "The View" co-host walked back to her house, and the blues singer thought she was going to "Call her man." Instead, he was shocked when Whoopi returned with a rifle in her coat looking for him, but as fate would have it, the "Sound of Music" actress didn't find the singer.
The next day, Fillmore met the actress, and after confirming that she meant to use her rifle on him, they hugged things out; he said there is no malice between them and he loves who Whoopi is today.
Years after the altercation, and following his release from prison in '85, the bluesman cleaned up his act, and went back to his first love "Music."
In his younger years, the 84-year-old singer recorded his first song "You Got The Nerve of a Brass Monkey," and when he started recording again, the legendary singer released the albums "Born to Sing the Blues," and "The Other Side of the Road."
In the year 2000, Fillmore performed at the 28th San Francisco Annual Blues Festival, and in 2017, he returned to Eli's High Club, in Oakland, the place where the blues legend made his decision to return to music, to perform.
Fillmore whose real name is Clarence Sims once said he is glad he had music to fall back on after his time in prison, and the "Blues" he had all his life became his salvation.
Please fill in your e-mail so we can share with you our top stories!