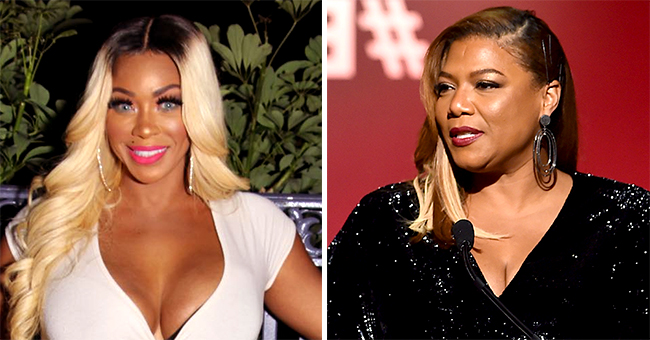 Getty images; Instagram/theonlymspooh
L&HHATL's Pooh Hicks Says She and Queen Latifah 'Dated in the Past'

Famous "Love & Hip Hop: Atlanta" star, Pooh Hicks, has the internet upturned after disclosing that she once dated Queen Latifah.
Pooh became a popular subject on social media platforms and various media outlets after she disclosed what some will refer to as too much information about her love life.
The reality star was recently interviewed on "The Domenick Nati Show" where she denied claims that she had ever slept with P. Diddy. However, to everyone's surprise, she revealed that she has indeed dated popular American actress and rapper, Queen Latifah.
Pooh only recently plunged into fame after she became a supporting cast member on the eighth season of the popular reality series, "Love & Hip Hop: Atlanta."
It seems she is made for the show thanks to her startling character.
Rumors that Pooh has slept with both P. Diddy and Queen Latifah has been going around for a while now. Surprisingly, Pooh, honestly or not, has come forward to respond to the claims.
The former stripper revealed that while P. Diddy was only a close friend of hers, Latifah had once been her lover.
Pooh told Domenick Nati that the relationship was about twenty years ago when she was in her early twenties. The reality star explained that, at the time, she had only been testing the waters when it came to dating women, and Queen Latifah was one of them.
Pooh continued to reveal that the relationship failed because she was too young for something serious at the time and was in no way prepared for the commitment. Her claims have the media in a frenzy, knowing how tight-lipped Latifah is when it comes to her private dealings.
One thing that is sure right now is that Hicks, who is currently married to established music executive and entrepreneur Hiriam Hicks, can't keep a secret.
Details about her relationship with Latifah only came out after she publicly blasted Karlie Redd, a primary cast member on "Love & Hip Hop: Atlanta" over an alleged threesome that she claimed they both participated in.
There is nothing to be said about Latifah's reaction to Hick's near preposterous claims. Fans only know very little about the award-winning entertainer's love life and many even rumored that the stunning star is not straight.
To date, Latifah has said nothing about the claims, and this is most probably because of how nasty she knows the media can be. While speaking in an interview with "Metro newspaper," the "Star" actress disclosed that "coming out now" might be a little harder than most people think.
Please fill in your e-mail so we can share with you our top stories!