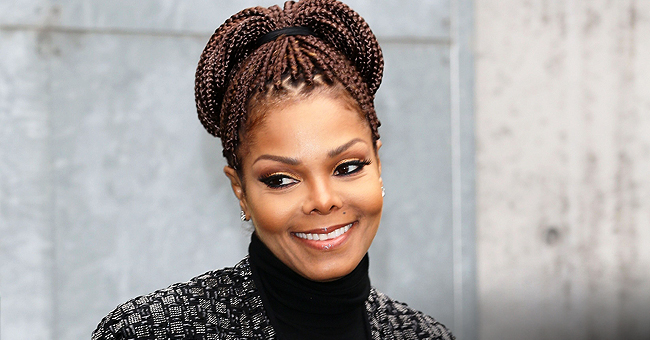 GettyImages
Janet Jackson Gets Candid about Being a Mom to Her 'Beautiful Son' Eissa
Janet Jackson's decades-long career is still on the rise, but now that she's juggling her work with motherhood, she says she has "slowed down" a lot to dedicate more time to her 2-year-old son.
Ahead of her upcoming performance at the Glastonbury Festival, Janet Jackson recently opened up about life in a rare, honest interview with The Sunday Times.
A SUPER MOM
The 53-year-old pop icon became a mom two years ago when she welcomed son Eissa with ex-husband Wissam Al Mana.
Since then, Janet's perspective on life has taken on a whole new meaning, and she revealed how motherhood has affected not only her personal life but also her career.
"I'm in a great space," she told the Times. "I have a beautiful son."
"Day after day and night after night, holding my baby in my arms, I am at peace. I am blessed. I feel bliss."
Juggling a demanding career in the entertainment industry—which is filled from expectations that always follow the Jackson last name—while taking care of a toddler, has turned Janet into a "superwoman" in her friends' eyes, as she said:
"My friends call me Superwoman. God knows I'm not. But I think what they are seeing is the energy and that extra drive I'm getting from the inspiration of Eissa."
FINDING THE BALANCE
Janet kicked off her new Las Vegas residency earlier this year and is set to return in the summer, and although she draws inspiration from Eissa, Jackson admits she has slowed down her pace not to sacrifice precious time with the boy.
"I've slowed down a great deal," she revealed. "I don't rehearse as many hours as I used to because of being with my baby. My days have been cut in half so I can spend that time with him."
However, there are days where Eissa goes with Janet to rehearsals, and she says the boy enjoys singing along to her hits and being around other kids.
A CHANGE IN PERSPECTIVE
In an interview with Billboard last year, Janet admitted that growing up in such a competitive industry, she was always taught to put herself first. But after Eissa's birth, his well-being became her priority.
"My son has shown me that love, no matter how deeply you believe you have experienced that emotion, can always go deeper. Love is limitless," she said.
"And for someone like me, raised in show business where self-concern is always a priority, how fortunate I am now to be concerned, first and foremost, with the welfare of someone else. Day after day and night after night, holding my baby in my arms, I am at peace. I am blessed. I feel bliss. In those moments, all is right with the world."
IT'S ALL ABOUT HAVING FUN
Janet is not worried about the future. She says that even though there are still many things she would like to do in her life, the possibility of not doing it doesn't scare her thanks to Eissa, whom she says is her "light."
"I've done a lot in my life, and it's about having fun, continuing to have fun," she stated. "There are still things that I do want to do in life, but if I don't get to do those things, then I'm good. I have a son, and he's beautiful. He's my light."
Janet is set to perform at the Glastonburry Festival this weekend.
Please fill in your e-mail so we can share with you our top stories!