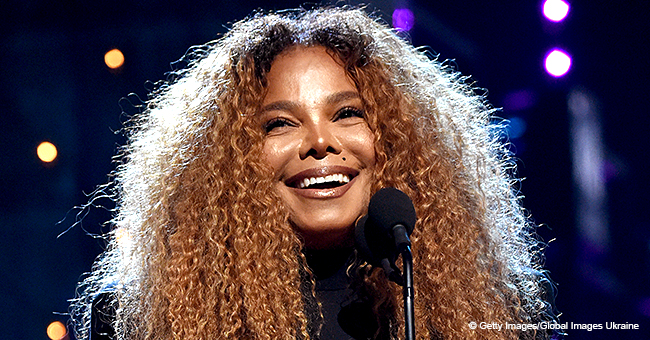 Janet Jackson Thanks 'Incredibly Strong Family', 'Beautiful Son' in Rock & Roll Hall of Fame Speech
Janet Jackson thanks her family for encouraging her to pursue music as she accepts her induction into the "Rock & Roll Hall of Fame." She also declined to perform that night as a show of support for her brother Michael Jackson in the midst of the "Leaving Neverland" scandal.
Janet Jackson was inducted into the Rock & Roll Hall of Fame and she thanked her family for paving the way.
ON HER FAMILY AND FATHER'S INFLUENCE
Jackson, in her induction speech, credited her family first and foremost.
"I didn't do this alone, though. There's a world of people that supported me along the way. I want to begin by thanking my incredibly strong family, my wonderful mother and father, my sisters and my brothers. You guys never stopped believing in me."
She thanked her late father, Joe Jackson for encouraging her to pursue music despite it being his dream for her and not her own. She said she wanted to be a lawyer but her father envisioned her as "this wonderful performer." It was only after that she admitted, "music became my passion."
"Tonight, your baby sister has made it."
ON HER BROTHERS WHO CAME BEFORE HER
Jackson also honored her brothers who were inducted before her into the prestigious hall of fame. The Jackson Five was given the distinction in 1992 and her brother Michael Jackson in 2001 as a soloist.
"In 1997, my brothers were recognized for their musical passion by being inducted into the Rock and Roll Hall of Fame and I was so, so proud," she recalled.
"As the youngest in the family, I was determined to make it on my own. I wanted to stand on my own two feet, but never in a million years did I expect to follow in their footsteps."
"Tonight, your baby sister has made it," she proudly tells them.
ON HER SON'S PRESENCE
Jackson also thanked all the people who helped her throughout her career, her fans as well as her son who "wakes me up every single morning singing his own little melodies."
"I want you to know that you're my heart, you're my life, and you have shown me the meaning of real, unconditional love. Mama loves you, Eissa, rah rah rah," she adds.
A PLEA FOR MORE WOMEN
Before she ended her speech, Jackson made a plea for more women to be inducted into the Rock & Roll Hall of Fame.
"Please, 2020: Induct more women," she asked.
A SILENT SHOW OF SUPPORT FOR BROTHER MICHAEL
Jackson's speech didn't culminate in a performance as most inductees did in the past. She begged off from performing as a show of solidarity for her brother Michael Jackson. The induction was going to be aired on a later date on HBO, the same network which aired the controversial documentary "Leaving Neverland" which shred her brother to pieces with the testimonies of two men who accused him of molesting them as children.
Jackson has kept mum about the issue since the airing of the film while her brothers have been vocal about their distaste for it. But her move to decline performing after her acceptance speech was clearly a silent show of support for her late brother.
Please fill in your e-mail so we can share with you our top stories!