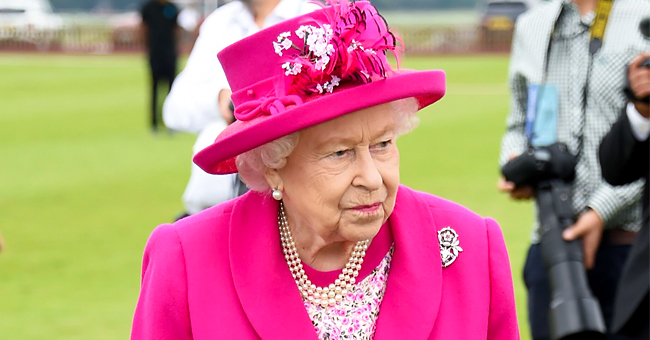 Getty Images
Queen Elizabeth Gets a Scarf Blown in Her Face at the Royal Windsor Show
The video of a polo goer's scarf getting blown in Queen Elizabeth's face is fast becoming popular, especially because it got a famous actress watching on in horror.
Daily Mail shared a short clip taken during the Royal Windsor Cup polo match which held June 23, at Guards Polo Club in Egham, Surrey. As usual, the Queen and many other celebrities graced the event.
Unlike the norm, however, the occasion has become popular news after a scarf accidentally got in the Queen's face. The now-viral moment came when the famous British royal, dressed in a vibrant pink coat and floral-patterned dress, had a black scarf blown in her face as she made her way down the stairs leaving the royal viewing box.
The world-famous monarch, however, showed no sign of surprise or distress and only continued her descent while the scarf's owner struggled to get it away from the queen and back in its right place.
What, however, makes the short clip so hilarious is the bewildered look on famous British-American actress Gillian Anderson's face.
The owner of the fabric, Japanese musician and the lead singer of "X Japan," Yoshiki, looked terrified when the incident unbelievably happened but everyone expected just that much from him.
However, Anderson's reaction is what has made that tiny moment big news. The award-winning "X-Files" star, who is dressed formally wearing an elaborately designed white/black dress could do nothing to hide her shock as she watched the scarf get in the Queen's way.
A part of the Daily Mail video even lets the viewers watch the various reactions in slow motion and so, savor it. That is probably why the video, although not even a day old, has already amassed so many views and also become the subject of numerous hilarious headlines on the internet.
There is no doubt that both Anderson and Yoshiki's reactions are out of reverence for the Queen. That fact alone made the Queen's continued poise despite the unexpected moment very admirable as the 93-year-old only carried on with the day's activities without batting an eyelid and almost as if she had expected it.
She oozed of elegance on her conservative and yet elegant ensemble as she presented the trophy to the winning team at the end of the competitive event at the Guards Polo Club.
Please fill in your e-mail so we can share with you our top stories!