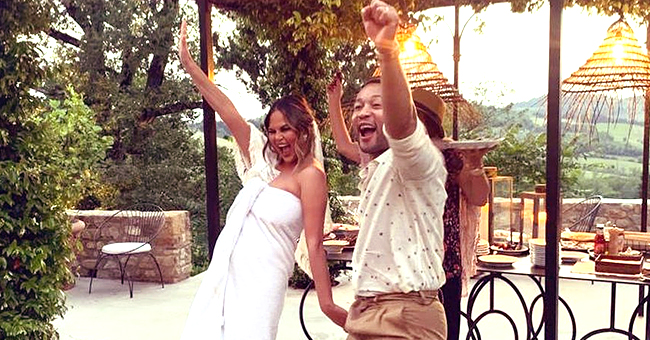 Instagram.com/IamChrissyTeigen
Watch John Legend & Chrissy Teigen's Son Miles Say His 'First Word'
John Legend and Chrissy Teigen's son Miles Stephens just said his first word, and his proud mom was able to capture the adorable moment on video, sharing it with the rest of the world to see.
It's quite normal for parents to feel excited when their children say their first words, and they're usually words like "mama" or "dada." However, for Miles Stephen, his word was something more generic, and it's amusing how fast he's been able to comprehend what the word actually means.
In the video, his grandmother Vilailuck Teigen asked him a couple of questions, to which he answered with "Yeah."
A Unique First Word
Vilailuck asked the little boy if he loved his parents and big sister, and he answered with "Yeah." She then asked him if he loved the rest of his family members and friends, and he yet again let out another "Yeah."
His mom happily shared the video on Instagram, letting people know that his first word was officially "yeah."
The video soon after went viral, garnering more than 842,000 likes and 6680 comments.
Breaking Stereotypes
While John Legend wasn't available to see the milestone live, he's actually been quite hands-on as a dad to both his firstborn, Luna, and his son Miles. In fact, he actively took part in a new campaign with Pampers and Koala Kare, that aims to install diaper changing stations in more than 5000 bathrooms in the US and Canada.
It was a no brainer for the singer to hop in on the project, as he himself has found trouble multiple times in not having a proper changing station for his children to comfortably change their diapers in. As people often think it's a "woman's job" thanks to society's stereotypes, he is now trying to let everyone know that this is wrong, and dads are allowed to do the dirty work, too.
"I'm glad that we're highlighting this issue. Overall, it's part of a movement that we recognize [the] duties of parenting and running the house should be shared more equally between partners."
Please fill in your e-mail so we can share with you our top stories!