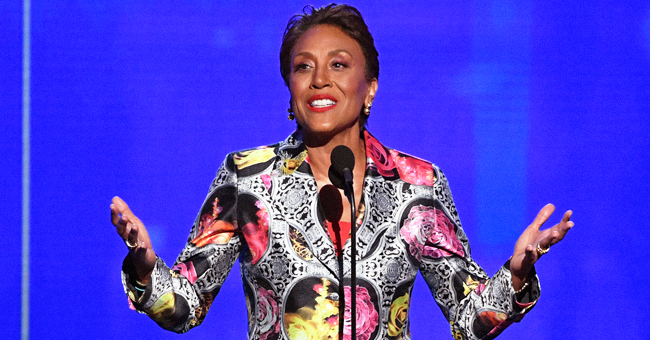 Getty images
Robin Roberts Accepts NBA's 2019 Sager Strong Award & Gives Inspiring Speech

"Good Morning America" host Robin Roberts was honored with the NBA's Sager Strong Award, and moved the audience with an inspiring speech.
The TV host and former college basketball player Robin Roberts was honored by the NBA with the Sager Strong Award.
Roberts was visibly moved and gave an inspiring acceptance speech that had the audience on their feet.
NBA'S SAGER STRONG AWARD
Roberts is only the third person to receive the award named after the sideline reporter Craig Sager who died in 2016 after battling leukemia.
The NBA characterizes the recipients of the Award as individuals who are trailblazers while exemplifying courage, faith, compassion, and grace. And Robin Roberts certainly ticks all the boxes.
Roberts' own need for a bone marrow transplant made her aware of the thousands of people in desperate need of a compatible donor.
ROBIN ROBERTS REMEMBERS CRAIG SAGER
Roberts spoke about Sager, his irrepressible humor and wit, and above all his courage in facing the same deadly disease she herself had battled - cancer.
"We both endured bone marrow transplants. As you saw, I'm incredibly blessed that my beautiful big sister Sally Ann was a match and she did not hesitate to step up and help her baby sister. Together we have worked to bring awareness and increase the number of donors on the bone marrow registry," she said.
ROBIN ROBERTS HONORED FOR HER EFFORTS FOR "BE A MATCH"
Roberts' own need for a bone marrow transplant made her aware of the thousands of people in desperate need of a compatible donor.
She was lucky enough to have a compatible family member, but Roberts had used her influence to spread the word and inform the public about the need for more donors. As a result of her efforts, the bone marrow registry has seen a tremendous increase.
ROBIN ROBERTS PROUDLY DONS A "CRAIG SAGER" JACKET
Roberts took home an extravagant jacket, a replica of one of Craig Sager's exuberant outfits which were his trademark.
"Courage, faith, compassion, and grace are a perfect description of Craig Sager. The only time that I am at a loss for words when it comes to Craig ... his wardrobe. I cannot wait to wear this on the air," she said.
The two previous winners of the Sager Strong Award are Phoenix Suns' head coach Monty Williams, and Dikembe Mutombo, who played in the NBA for 18 seasons and is known for his humanitarian work.
ROBIN ROBERTS' FIGHT FOR HER LIFE
Robin Roberts felt a lump in her breast in 2007, and, after consulting her doctor and a biopsy, she was diagnosed with breast cancer.
Robers underwent surgery, chemotherapy and radiation treatments and was given the good news: she had beaten her cancer.
But Roberts' health worries were far from over. In 2012 she was diagnosed with myelodysplastic syndrome.
Myelodysplastic syndrome (MDS) is caused by poorly formed blood cells and Roberts developed the syndrome as a complication of the chemotherapy she got for her cancer. The chemotherapy had damaged her bone marrow, and the only solution was a transplant. Luckily for Roberts, her sister was compatible and the procedure was a success.
Please fill in your e-mail so we can share with you our top stories!