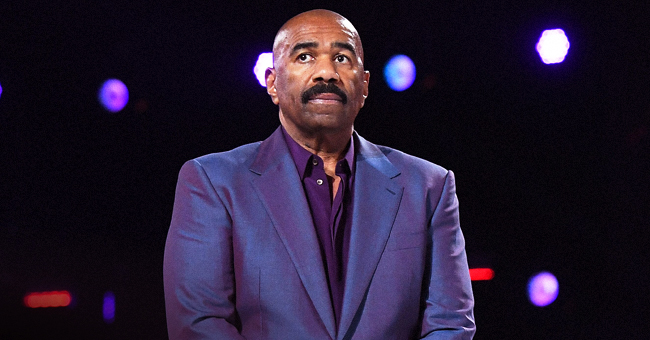 Getty images
Watch Steve Harvey Say Goodbye on the Final Episode of His Daytime Talk Show
Steve Harvey asked viewers for their prayers as he starts a new chapter in his professional life.
The sad day fans have been dreading has arrived, and Steve Harvey is saying goodbye to his hit daytime talk show.
On his last show, Steve spoke to his viewers about his seven years on the show, and about his eagerness to embrace a new challenge.
"All I'm doing is I'm about to turn it. And I can't wait to see what God got for me on that other page." Steve Harvey
STEVE HARVEY SAYS GOODBYE AFTER 7 YEARS
Fans were shocked when NBC executives decided to shut down the popular "Steve Harvey Show" to offer the slot to Kelly Clarkson, and her new "The Kelly Clarkson Show" but Steve is taking the changes in his stride.
For him, this change is an opportunity and the opening of a new chapter in his life.
"This is a celebration. This is all about seven years coming to a close, but this is good … you've got to understand how it works. See, your life ain't nothing but a book. I happen to be 62 years old. I am in the middle of my 62nd chapter of the book that I'm writing," he said.
He was replaced as host of the kid's variety show "Little Big Shots" by Melissa McCarthy.
CHALLENGES DO NOT DAUNT STEVE HARVEY
Steve, who spent 3 years living homeless on the streets before finally breaking into comedy, explained that every chapter in his life has been a valuable learning experience.
A SPECIAL SURPRISE IN STEVE HARVEY'S LAST SHOW
Steve announced the presence of Bishop T.D. Jakes on the last show, and that he had a special surprise in store.
"I've got seven boys that I want you to meet. Today, my wife and I, our foundation and Omega Psi Phi fraternity, we're sending seven African-American boys to the same school [Kent State University] I flunked out of," he said.
STEVE HARVEY ASKS HIS AUDIENCE FOR THEIR PRAYERS
Steve closed his last show by asking his audience to pray for him. The announcement of the cancelation of Steve's show in May was a shock since it had averaged about 1.8 million viewers a week, putting it at no. 5 among syndicated talk shows.
This blow was followed by a decision to substitute Steve as host of the hit contest "Little Big Shots" with comedian Melissa McCarthy.
Steve Harvey is still a huge presence on TV since he still hosts 3 shows. We can't wait to see what's next for Steve Harvey.
STEVE HARVEY'S NEW CHAPTER
Steve Harvey's professional life has been turned upside down, but he is keeping his cool.
NBC canceled his talk show after seven years replacing it with Kelly Clarkson's new talk show set to premiere in September 2019, and he was replaced as host of the kid's variety show "Little Big Shots" by Melissa McCarthy.
Nonetheless, Steve has revealed that he is looking forward to embracing new projects and proudly announced that his Youtube channel has reached 1 million subscribers. Well done, Steve Harvey.
Please fill in your e-mail so we can share with you our top stories!