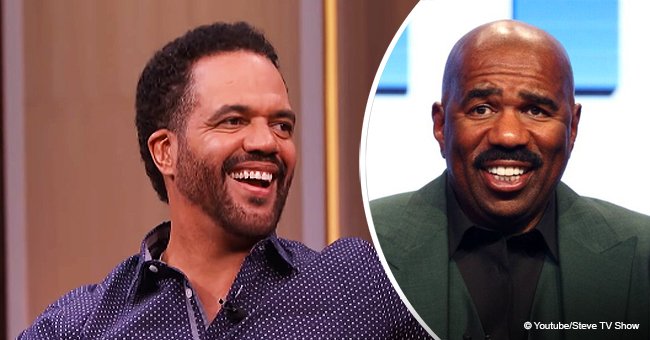 Steve Harvey shares final interview with late actor Kristoff St. John in never-before-seen footage

Talk show host Steve Harvey paid tribute to Kristoff St. John and shared the final interview ever with the late actor.
On February 3, 2019, the entertainment world was shocked by the news of the death of 52-year-old actor Kristoff St.John.
Since then, friends. family and colleagues have paid tribute to "The Young and the Restless" star.
REMEMBERING KRISTOFF ST.JOHN
On February 19, Steve Harvey opened his talk show by paying tribute to St.John. He started by talking about the actor's stellar career in soaps on "The Young and the Restless" where he played the role of Neil Winters for 27 years.
He spoke about the actor's contributions and his excellence which earned him eleven Daytime Emmy Award nominations, two Emmy Awards, and ten NAACP Image Awards. He then revealed what he believes is the last interview St.John gave before his death.
Harvey sat down with St.John's fellow cast members Doug Davidson and Victoria Rowell to talk about their loss.
KRISTOFF ST.JON IN "STRAIGHT TALK: MALE EDITION"
The video clip is from "Straight Talk: Male Edition" from "The Steve Harvey Show" which featured St.John alongside RB musician Tank and Dr. Drew. The topic of discussion was married men having friendships with women.
"MEN AND WOMEN CAN'T BE FRIENDS"
Harvey referred to Vice President Mike Pence's revelation that he will not be around women without his wife, and threw the topic open to discussion.
With his usual warm smile, St.John agreed wholeheartedly with the Vice-President - while Tank believes that men and women can indeed be friends.
TALKING TO KRISTOFF ST.JOHN'S FRIENDS AND COLLEAGUES
After sharing the clip, Harvey sat down with St.John's fellow cast members Doug Davidson and Victoria Rowell to talk about their loss.
Davidson was visibly moved and choked as he spoke of his friend:
"He was so full of love, so that would be the most powerful thing that I will remember about him. In any circumstance, if you were in trouble or dealing with anything, he was always very supportive. He would be there for you."
Rowell. who played St.Jonn's on-screen wife for many years, spoke about his kindness and his love for his family.
Kristoff St.John was found dead by Beverley Hills police conducting a welfare check on behalf of a friend. Though a cause of death has yet to be released, it is thought that he died of an alcohol overdose.
KRISTOFF ST.JOHN'S FIANCEÉ SHARES HER GRIEF
Kristoff St. John's fianceé, Ksenia Mikhaleva is struggling to come to terms with the actor's death and has posted of her anguish of not knowing "why."
Mikhaleva and St.Jonh met in Paris in February 2018, and the "Young and the Restless" actor lost no time in proposing to the lovely Russian model, and the two got engaged in September 2018.
In the aftermath of his death, Mikhaleva posted a touching tribute to St.John:
"Your soul and spirit always with me. I wish I could have been there to let you know how much you mean to me. You are deep in my heart. I'm praying for your family. Rest in paradise."
Mikhaleva who lives in Moscow was filing her papers to move to the US to be with her Kristoff St.John when he passed away.
In a related story, Kristoff St. John's ex-wife shared devastating details of one of their last phone calls.
Please fill in your e-mail so we can share with you our top stories!