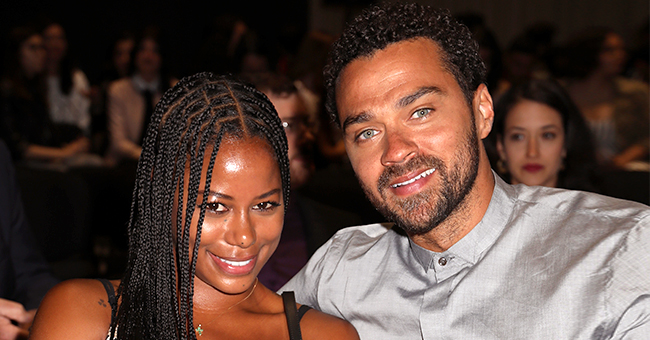 Getty Images
Taylour Paige Gushes about Her Man Jesse Williams, Says He's 'the Other Half of My Soul'
Taylour Paige reveals she's at the end of her "lifetimes" search for her other half as she expresses her joy over her new relationship with Jessie Williams. "Now I can see!!!" she says.
It took Taylour Paige "lifetimes and lifetimes and lifetimes" to finally find her soul mate and she's shouting it out to the world.
COUPLE FLAUNTING RELATIONSHIP
It's been over a month since Taylour and Jesse Williams confirmed speculation that they were an item when they showed up together at the red carpet of the Ozwald Boateng fashion show. Now it seems the 28-year-old actress is more than certain she's found the one with her latest declaration about their relationship.
TAYLOR FINDING THE OTHER HALF OF HER SOUL
Taylour took to her Instagram this week to share her appreciation for the kind of love she now shares with Jesse.
"Finally after lifetimes and lifetimes and lifetimes and lifetimes x a zillion," she said, "my soul found the other half of my soul that split off and out to learn and grow through contrast and clarity and perspective and appreciation." She adds, "My familiar stranger. now I can see!!!"
As we can all see too, Taylour and Jesse make for a lovely couple in the photo she shared along with her message. The soon-to-be-divorced 37-year-old actor looked dashing next to her equally stunning girlfriend.
We're not sure if Jessie's ex-wife, Aryn Drake-Lee was thrilled about the post considering she and the actor have been at odds lately.
FRIENDS EXPRESSING JOY
Friends of the couple seem to be happy for them too as evidenced by the reactions they received on the dancer/actress' comments section. Jessie's "Grey's Anatomy" co-star Ellen Pompeo posted a series of hearts while his other co-star and on-screen partner, Kelly McCreary wrote,
"So happy for y'all. Makes my heart smile."
EX-WIFE SETTING BOUNDARIES
We're not sure if Jessie's ex-wife, Aryn Drake-Lee was thrilled about the post considering she and the actor have been at odds lately. Apart from their ongoing divorce which was first filed in 2017, Aryn has been setting some rules for Jessie to abide by when it comes to dating around their two children.
Aryn, who many believe Jesse left for Minka Kelly reportedly wasn't pleased when she learned that their five-year-old daughter and three-year-old son once referred to a woman he was dating as "mama." This prompted her to prohibit Jesse from introducing his women to their children too soon.
It's unclear if Taylour has met Jessie's kids yet but we suspect if their relationship is as solid as the "Hit the Floor" star describes it to be, then she's bound to meet them in the future.
Meanwhile, we're just happy that Taylor found her perfect man and we hope this relationship blossoms even more.
Please fill in your e-mail so we can share with you our top stories!