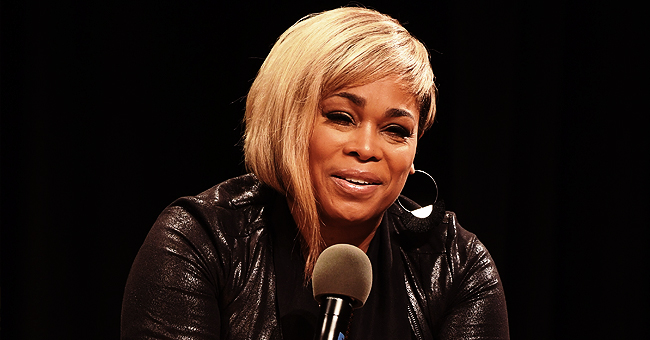 Getty images
T-Boz Was That Embarrassing Mom at Daughter's High School Graduation (Video)

T-Boz's 18-year-old daughter has grown into a beautiful young lady.
T-Boz of TLC shares daughter Chase Anela Rolison with rapper Mack 10, and though it seems like it was just yesterday that the singer announced her birth, she is now a young lady.
Chase has now reached an important milestone and shared the news on Instagram, much to her followers' delight, and her mom's exuberant pride.
T-BOZ'S DAUGHTER CHASE ANELA'S PROUD ACHIEVEMENT
Chase posted a snap on social media showing herself in her cap and gown and proudly holding up her diploma.
T-Boz's baby girl has now graduated from high school and will be heading for college in the fall.
T-Boz has triumphed over her illness at all levels and has become a spokesperson for sufferers of sickle-cell anemia.
T-BOZ WHOOPS IT UP AT CHASE ANELA'S GRADUATION
T-Boz also celebrated the event by posting a clip of her daughter's graduation ceremony in which the TLC singer is whooping and dancing as she holds up a poster in honor of Chase's achievement.
"GRADUATION EXTRAVAGANZA!!! She Did It Y'all! I'm Beyond Proud of You!!! Babygirl I Know You've Had A lot Of Challenges Along The Way As Well As Some Health Issues!!! But U Stayed On Course With All Of Your Extra Hard Work! I Look Forward To Any & Everything U Want To And Will Do In The Future!" she wrote.
T-BOZ WAS LOUDEST MOM AT THE GRADUATION
T-Boz made sure every other parent at the graduation ceremony knew that it was her pride and joy receiving her diploma.
" #Graduation #ProudMother YES AND OF COURSE WE WERE THE LOUDEST ONES THERE! AND YES I MADE POSTERS HAAAAAAAA!!!!! What's A Wrong With Embarrassing Ur Daughter A Little!!!! AND I HAD TO ADD CHANCE OF COURSE BCUZ HE SAYS HE'S GRADUATING TOMM ????THANK U TO EVERYONE WHO SUPPORTED AND 4 ALL THE LOVE AND GIFTS!!!#tboz #tbeezy #tlc ??????????SWIPE" she wrote.
T-BOZ REVEALS SHE LIVES FOR HER KIDS
The singer, 49, who has battled with sickle-cell anemia all her life, was expected to die by the age of thirty and never have children.
T-Boz has triumphed over her illness at all levels and has become a spokesperson for sufferers of sickle-cell anemia.
"So you know THIS fight for me is soooooo REAL! Chase & Chance are my LIFE and I can't tell u how many times I almost didn't leave the hospital and almost died I don't tell cuz I don't want pity BUT I will tell my story now if this will help somehow some way," she said.
Seeing her little girl graduate from high school is yet another victory for this incredibly strong woman.
T-BOZ: PROUD MOM OF TWO
In 2017, the TLC singer who had given birth to daughter Chase in 2000, adopted a baby, and shared the news with the world on International Woman's day.
Though she only confirmed the adoption in March 2017, T-Boz revealed that she has had the baby since birth.
She named her little son Chance and has since then shared snaps of the adorable toddler on social media.
We wish T-Boz and her lovely family all the happiness in the world.
Please fill in your e-mail so we can share with you our top stories!