Mia Burks Slams Carmelo Anthony for Not Having Time for Alleged Daughter after Yacht Pic
Carmelo is in hot water with his wife, La La Anthony, after pics of him lounging on a boat with another woman surfaced online. Now, Carmelo's alleged baby mama also gave her two cents on the situation, as she slammed the NBA star for having time to be on a boat but no to spend with his daughter.
Carmelo Anthony is on the eye of the hurricane, once again, after paparazzi pics of him bathing under the sun next to a bikini-clad woman surfaced online.
Most fans were quick to point fingers and accuse the baller of cheating on his wife, La La Anthony, but Carmelo quickly fired back denying the rumors.
CARMELO'S STATEMENT
"I'm going to address this one time and one time only. And I'm really only addressing it for my family," Anthony said in a video shared by TMZ Sports. And continued:
"I'm over here trying to do my business retreat. I'm over here trying to have a good time. I'm on a boat with some friends. Them people are married, man. They ain't got nothing to do with anything. Y'all exposing somebody's wife, y'all exposing somebody's kids, come on. Leave that alone."
The pics came out the same day La La was celebrating her 40th birthday, and although the "Power" star hasn't addressed the situation, she did post and deleted a pic of a heart being stabbed by a dagger on her Instagram stories.
BABY MAMA DRAMA
To add salt to the wound, Carmelo's alleged baby mama, Mia Angel Burks, chimed in to share her thoughts on the situation through her Instagram stories.
She wrote a short but to-the-point post stating:
"N***** out here explaining how they're laid up on a boat with 'another man's wife' but can't explain why they can't spend time with their daughter. #explainthat."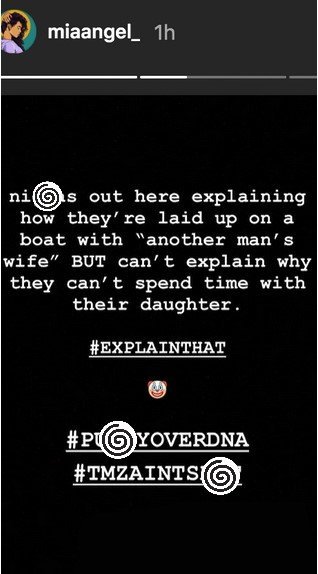 Back in 2017, La La and Carmelo split up after she found out he was cheating. During that time, Carmelo fathered 2-year-old Genesis with Burks.
"I've been with my husband for 14 years now, so if you think you're going to go through 14 years without no bumps or bruises in the road, you're fooling yourself."
However, the model has stated on several occasions that Anthony is taking care of their daughter financially, but it's not a part of her life.
"In all honesty, my daughter is good," Burks said in response to a fan a few months ago. "With or without a father she's going to BE GREAT. I promise we get to rest at night. No worries on this end."
WALKING ON THIN ICE
Carmelo and La La, who share 14-year-old son Kiyan, are still working on fixing their marriage after reconciling late last year.
Although La La never filed for divorce and even told Wendy Williams the idea was never on the table,  she did spend almost two years separated from her husband while focusing on her career and co-parenting for the sake of their son.
When asked in February how she managed to repair her marriage, Anthony told Hollywood Life: "Pray a lot. Believe in God. Talk to people that I know have my best interest at heart. Talk to my husband – communicate."
She also said it was essential to "hold each other accountable for things that we could both be doing in the marriage," and stressed the importance of "making the marriage a priority."
"I've been with my husband for 14 years now, so if you think you're going to go through 14 years without no bumps or bruises in the road, you're fooling yourself," she added. And continued:
"It's about how you respond to it, and sometimes things happen just to make the unit stronger and help you guys grow. And I think that's been the case for us…we're still working through some things, but I'm happy to be in a much better place right now."
Fans of the couple are hoping the yacht situation is just another bump on their marriage that they will be able to sort out.