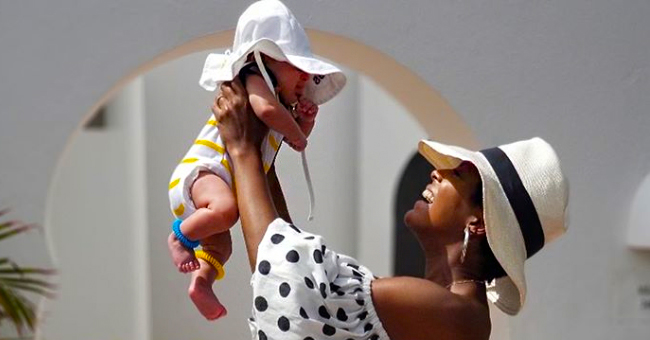 instagram.com/tamronhall
Tamron Hall Melts Shares Photos from Anguilla Vacation with 2-Month-Old Son Moses

Tamron Hall and her 2-month-old baby have been on vacation at Anguilla. The television host posted pictures of their time together, and they were all so adorable.
Tamron Hall and her baby, Moses are enjoying their vacation, and the proud mother is letting the world know. She posted some adorable pictures showing some moments they had together.
The pictures are all so charming and have got many admiring the mother and son. Baby Moses was welcomed by Tamron and her husband, Steven Greener, in April. By the look of things, he is bound to be a famous baby if the pictures are anything to go by.
TAMRON HALL'S INSTAGRAM POSTS
Tamron posted an image of her baby, International Moses wearing a cowboy hat and fitted trunks. The baby looked so adorable and also wore a lovely and charming smile.
In her caption of the post, she wondered if he would wear the hat to Old Town Road or Fedora to be Rico Suave. In another post, the former host of "Today Show" shared a picture of herself and Moses where she held him up high.
She wore a black and white polka dotted gown and hat, while her baby looked cute wearing his baby clothes also with a hat. In the post's caption, she expressed her happiness at being in Anguilla with her son.
Tamron's third post showed her and baby Moses at the poolside. The picture showed her in a lovely swimsuit and sunshades carrying her baby. Moses wore a white long-sleeved baby dress and diapers.
In the message associated with this post, Tamron made it known that Moses had been wearing sun hats all through the trip, except for that moment, and that the baby wasn't harmed while the picture was taken.
She did that to prevent mom shamers from coming for her for not protecting baby Moses from the Anguilla sun.
HER FOLLOWERS COMMENT
Many of her followers who commented on her post were delighted for her and baby Moses. They also commented on how cute he was. Some who commented on her third post about him not wearing hats, however, told her that she didn't owe anyone any explanation on what she did with her baby.
The 48-year-old is preparing for September 9, when she will launch her new television show, "Tamron Hall show." Her fans would also be waiting for the show's commencement, and of course more pictures of International Moses.
Please fill in your e-mail so we can share with you our top stories!