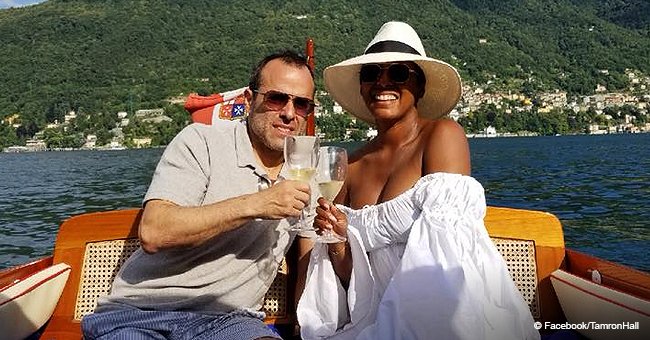 Tamron Hall Sparks Heated Debate in New Pic after Revealing She Married a White Man

Former "Today" show co-host Tamron Hall shocked her fans after she announced she is married to a music executive and is pregnant with their first child.
The 48-year-old announced her marriage and pregnancy simultaneously in social media, in a video that played the viral baby tune "Baby Shark." In the video, she revealed that yes, she was about to be a mom. While it was meant to be celebratory, people decided to slam her for marrying a white man instead of someone from her own race.
"Surprise, guys! Can you believe it? I'm about to be a mommy shark very soon."
Hall is 32 weeks pregnant, with only two months left to go until she gives birth. The surprise didn't stop there, as she also revealed she's been married to a man named Steven Greener for how many months now.
"I've wanted to share this news for many months and now finally my doctor has said I am in a safe place, at 32 weeks, to share my joy with y'all. There have been many tears, but today I embrace the smiles. My husband Steven and I are beyond excited! We're in constant prayer, so if you pray, add us to your list; if you meditate, send calmness our way; and if you believe in luck, we'll happily take that too."
Now that Tamron's not on the "Today" show anymore, she also revealed that she will be premiering her own daytime talk show called "Tamron Hall," which will premiere this September.
A RACIAL DEBATE
Tamron's recent revelations ended up sparking a debate online, as to why she married a white man. On a Facebook photo, she posted of her and her husband enjoying a lovely cruise on a boat, black men decided to slam her for not marrying someone from her own race.
"Michael Michaels: Gurl...I ain't mad at you, just a little saddened that when we are "successful" & or "rich" we typically end up with everyone else other than ourselves. #Society"
"Kimberly Crump: Wth!..ah he'll naw..a white man?.....??"
"Michael O Stone: that dude looks way older than you...sad"
Of course, her loyal fans made sure to defend her from these haters, congratulating her for yet another milestone in her life.
"Of course, IGNORANT, people had to turn this beautiful blessing, in to a race issue... just goes to show y'all! LOVE WINS!!! God bless her, her husband and their beautiful blessing, they've been trying for! Congrats to this BEAUTIFUL COUPLE!!!!!"
"Gloria Shakespear: CONGRATULATIONS TAMRON,happy for you .Pay no attention to the disgruntled folks who never proposed to you or set you up on a date.Enjoy your Husband and wishing you a safe delivery."
Congratulations and Best Wishes to Tamron, Steven, and their little baby on the way!
Please fill in your e-mail so we can share with you our top stories!