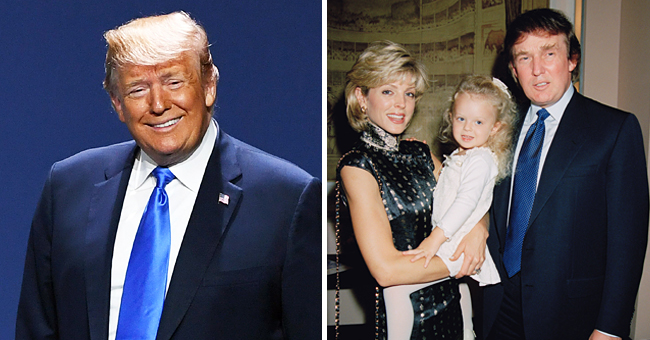 Getty Images
Donald Trump Is the Proud Father of 5 Beautiful Kids - Meet All of Them
Not only has Donald Trump been trying to "Make America Great Again," but also has he been heading his family of five, whom he emphasized to be close with throughout his campaign for the presidency.
America's president and wealthy businessman, Donald Trump, is a proud father of five and grandfather of eight, whom he stresses to be close with and supportive of. After winning the presidential race, all eyes have been on the first family -- here's all of them.
DONALD TRUMP JR.
Trump's firstborn with his first wife, Ivana Trump, takes after his father's name being a junior. Like some of his siblings, Donald Jr. graduated from the University of Pennsylvania with a degree in economics and made an appearance in "The Apprentice" for nearly ten years.
He is a real estate developer and serves as the executive vice president of the Trump Organization, together with his full-siblings, Ivanka and Eric. Like his father, Donald Jr. married a model, Vanessa Hayden, whom he shares five children with.
Trump's eldest often posts photos of his adorable children -- Kai, Chloe, Donald II, Tristan, and Spencer, on social media, highlighting their closeness to each other.
IVANKA TRUMP
Trump's first daughter, and second child with Ivana, is Ivanka Trump, who also graduated from the University of Pennsylvania with the same degree. Like her older brother, she appeared on "The Apprentice" and served as the executive vice president to Trump Organization.
She and her real estate developer husband, Jared Kushner, are currently serving as Trump's senior adviser, having a significant influence on decisions made in the White House. During her younger days, Ivanka had a modeling career and hosted the Miss Teen USA pageant.
Ivanka inherited her father's business mentality, owning a jewelry and fashion line. She also founded the #WomenWhoWork initiative, which aims to redefine the image of a woman at work.
ERIC TRUMP
Eric Trump is the third child of the president with his first wife and like his siblings had airing time on "The Apprentice" and held a position as executive vice president of the Trump Organization. Unlike his older siblings, Eric attended Georgetown University in Washington, DC.
He gained acknowledgment when Trump Winery and the Eric Trump Foundation, an organization which raises funds for terminally ill children, were founded. In the past, Eric received criticism after posting photos of their hunt during a trip to Zimbabwe.
TIFFANY TRUMP
The 24-year-old first daughter is Trump's only child with his second wife, Marla Maples, who raised her in Los Angeles. She is known for being part of the "Rich Kids of Instagram," a group of wealthy children living in New York City who spend lavishly as seen on their social media accounts.
She ventured into a career in singing at age 17, releasing her first single, then later attended the University of Pennsylvania where she studied sociology and law. Tiffany sometimes models for New York Fashion Week as well.
Barron William Trump
Barron Trump is the only child of Donald with his third and current wife, Melania. The young boy, although observed by the media, rarely makes appearances. According to his mother, he shows similarities with his father.
"He is a very strong-minded, very special, smart boy. He is independent and opinionated and knows exactly what he wants. Sometimes I call him 'Little Donald,'" she shared.
Please fill in your e-mail so we can share with you our top stories!