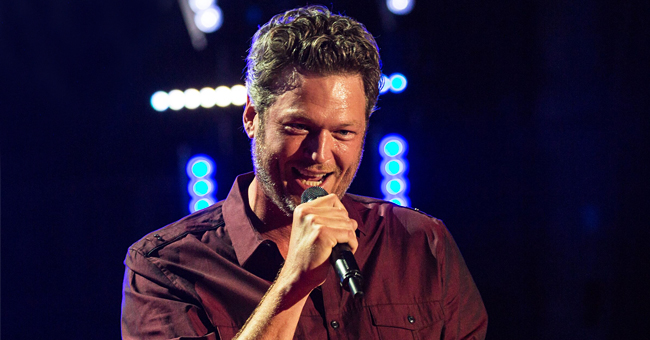 Getty images
Blake Shelton Jokingly Runs Away Crying after Failing the Viral Bottle Cap Challenge

Blake Shelton's hilarious epic failure of the bottle cap challenge had him running away in faux tears while cradling the bottle like a baby.
Since the bottle cap challenge which involves trying to untwist a loose cap with a spin kick without touching the bottle became viral, so many celebs like Jason Stratham, Diplo, and John Mayer, have successfully taken part in it.
SHELTON'S HILARIOUS FAIL
Country music star, Blake Shelton, decided to join the challenge, but little did he know that it was not as easy as belting out hit songs.
The 43-year-old singer in a Twitter video shared on his page, dressed in his custom baseball cap, dark T-shirt, and blue jeans attempted to take the cap off a Smithworks "American Made" Vodka.
Shelton placed the vodka bottle filled with liquid on a table, eyed it for a minute, then charged at it with the full force of his strength. He didn't get the cap off but knocked the bottle to the ground.
Realizing his blunder, the "I Lived It" singer shouted, "Oh my God," and picked the bottle off the ground. Cradling it in his hand like a baby, the singer added, "What have I done, I'm sorry Smithworks," before running away with it while crying falsely.
THE REACTIONS
Shelton's hilarious attempt got over 400,000 views, and his fans reacted with love for the country star. One follower wrote,
"This is what happens when you let Blake be in Oklahoma by himself."
Another wrote,
"This movie has it all, action, suspense, and drama; I give it five stars."
Others asked the award-winning singer to do the challenge again and thanked him for making them laugh. The "The Voice" coach equally tagged his friends, Ryan Reynolds, and Adam Levine to take on the challenge, and the former failed in his attempt.
WHAT SHELTON IS GOOD AT
Shelton might not be good at ninja kicks, but he is excellent as a singer and a partner to his girlfriend of four years, Gwen Stefani.
Stefani's father, Dennis James Stefani, turned 74 on the same day the United State's celebrated its independence anniversary, and the couple celebrated the two events together.
The singer kissed Dennis on the cheek, while his girlfriend called her father the best dad in the world. Shelton is equally celebrating his song, "God's Country," success as the number one song on the country chart, and is appreciative of the gifts in his life.
Please fill in your e-mail so we can share with you our top stories!