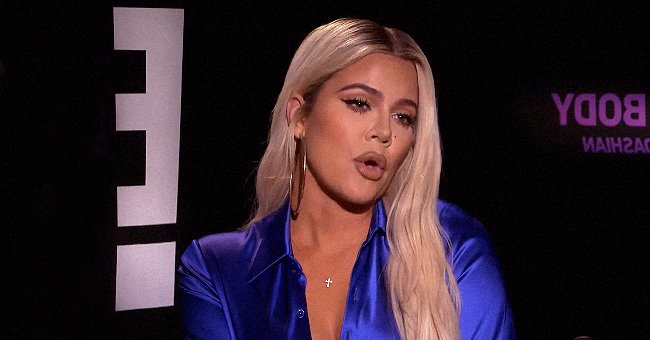 Khloé K. Reacts to Excessive Spending Criticism after Video of True in Toy Bentley
Khloé Kardashian wants to spoil her daughter True with love and material things, as she recently told a fan who slammed her for flaunting the 1-year-old's toy car on social media. The reality star also mentioned that she works hard and is entitled to decide how to spend her money.
Khloé Kardashian took to Instagram on Saturday to share a video of her daughter True having a good time aboard a sparkling pink Bentley toy car with a personalized plaque.
"I have so much with her," Khloé captioned the clip, which shows the toddler, was donning a pink shirt and white shorts, giggling in delight and swaying to the car's music while clacking the honk.
"Go, mama! do you like it?" Khloé asks her daughter, earning a sweet smile from True to the camera before the music ends.
GOOD AND NEGATIVE FEEDBACK
Fans and friends of the 34-year-old mom took over the comment section gushing about True's cuteness.
Model Shanina Shaik wrote, "Khloe I can't!!! Most beautiful princess!!!" while makeup artist Mary Phillips added, "Seriously obsessed with her always happy mood!!!"
"We all work hard, and we are able to spend our money in the way that we choose. I hope that's what comes across to 'the outside world.'"
However, among the thousands of positive comments, there was one that caught Khloé's attention from a fan who believes the Kardashians' expending habits makes them look bad to the outside world.
"Great, another Kardashian in a Bentley," the commenter started. "You guys are so oblivious to how your excessive spending looks to the outside world. I really loved your family's story and now just can't bear to watch as you spend all this money on worthless materialism. It's so sad."
KHLOE'S CLASSY CLAPBACK
Despite the tone of the critic, Khloé kept her cool as she replied:
"Ummm you know this is not a real Bentley? It's a toy. No reason to get sad over a baby in a toy car. Either way I'm sorry you feel that way, but I hope you have a great weekend! Focus on things that make you happy! Smile!"
The same user went back to thank Khloé for her reply and continued by stating that since she and her sisters have a lot of influence, there is always room to grow.
Khloé wrote a lengthy message to the fan's reply, starting off by saying that she appreciated the second comment more than the first one.
"I hear you," she continued, stating that from her point of view, she doesn't think all her family does is "spend money on worthless materialism."
"I'm not here to prove what I do or don't do. But what I can say is that I'm able to look myself in the mirror and sleep well at night. I'm able to do that because I know I'm a good person, and life is all about balance," added the Good American designer.
"Yes, I do choose to spoil my daughter," Khloé continued. "I want to spoil her with love as well with material items. She will also be raised with values, responsibilities, chores, respect, self-love…"
And concluded:
"We all work hard, and we are able to spend our money in the way that we choose. I hope that's what comes across to 'the outside world,' To lead with love above anything else."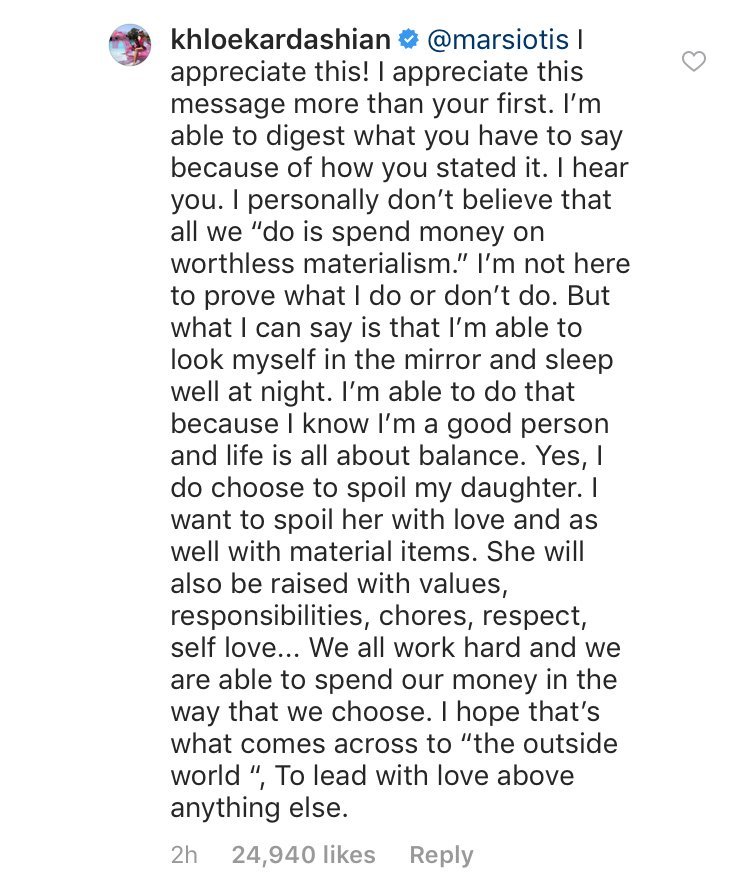 Khloé's comment on Instagram. | Photo: Instagram/khloekardashian
DOING WHAT IT TAKES FOR TRUE
Khloé welcomed True with ex-boyfriend Tristan Thompson in April 2018, only two days after photos and videos of the NBA star kissing and groping other women surfaced online.
At the time, Khloé decided to forgive Thompson and move on with their relationship for the sake of her newborn daughter, but earlier this year, when he cheated on her again with family friend Jordyn Woods, Khloé decided to split with him for good.
And although the wound is still fresh, Khloé tells US Weekly that she's doing her best to have a working co-parenting relationship with the Cleveland Cavaliers' star.
"I think Tristan and I broke up, like, five months ago, so it's still sometimes awkward, but I think we're both doing a really good job. I mean, whenever he wants to see her, he can," Khloé revealed.
For Kardashian, putting her daughter as a priority has helped her deal with the situation. As she said: "It's all about the baby! You put your kids as a priority, and they come first. Nothing else matters."
Please fill in your e-mail so we can share with you our top stories!