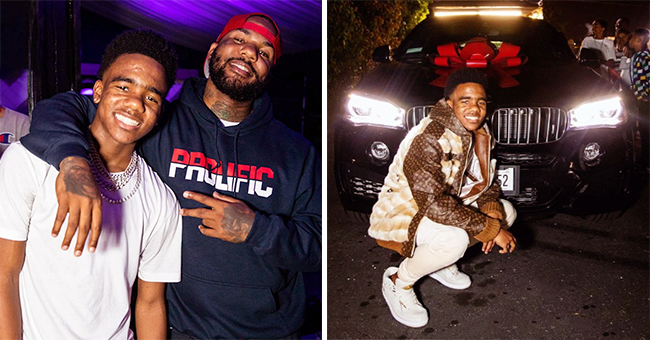 Instagram/cassyathenaphoto
The Game Throws Epic Party for Son's 16th Birthday & Gives Him a Luxury BMW

It was his son's 16th birthday so The Game pulled out all the stops to celebrate the milestone. He threw him a lavish party, gifted him with a luxury vehicle, and even wrote him a heartfelt tribute.
It's quite fortunate to be born to The Game who recently proved how far he would go for his firstborn, Harlem Taylor who turned 16 over the weekend. The rapper made sure it was a blast by covering all aspects of the celebration.
AN EPIC PARTY
Saturday night saw a host of teens, possibly an entire high school batch partying to the tunes of guest performers Trippie Red, Blueface, and Tee Grizzly. It's unclear if the devoted father took the mic himself but he was definitely busy filming scenes from the epic fete the whole night. He later shared them on his Instagram.
A LUXURIOUS GIFT
At the end of the night, The Game's gift appeared in the form of a brand new BMW SUV signaling a new era for his boy as he starts turning into an adult. Guests admired the luxury ride which was decorated with a bow.
A TOUCHING TRIBUTE
And while the party was grand enough, the proud father kept the celebration going the following day by penning a long, sweet, tribute to accompany a photo of a younger Harlem holding on to his father.
The Game waxed nostalgic as he recalled the first time he became a father sixteen years ago. He recalled not knowing how it would play out but, he said, "I felt deep in my soul I was ready." The rapper then explained Harlem's name and the reason behind it.
"That's the 1st city in New York I had ever been to & during my time there, I felt it's strength, culture & I learned a lot of its history so I felt it appropriate for my 1st born."
Throughout Harlem's growth, The Game proudly revealed he never failed him though regrets being absent during his early years due to the demands of his career. "…but I knew you were a baby & that by the time you could understand what was going on, you wouldn't remember me ever not being by your side," he explained.
"If you weren't born who knows where I'd be in life, but I am 100% positive it wouldn't be here, as I didn't even know how to properly love or appreciate anything til I met you," he continued as he praised his young man for being "Smart, beautiful & everything I imagined you would be."
His final message would tug at the heart of any parent.
"Catch every tear, trace every step, listen as well as learn, love whole heartedly & never stop loving you... not even for a split second is how I parent. You are everything to me boy & I hope that I've truly made you happy on your birthday son. God knows I gave it my all – Dad"
Fatherhood is clearly a source of pride for The Game who's also a dad to King Justice Taylor, 12, and Cali Dream Taylor, 8. Their mother is the rapper's ex-fiance, Tiffany Cambridge. Cali is already a model who recently landed a campaign with Nike. Photos from her @littlemisscali Instagram page reveal she's a natural.
Please fill in your e-mail so we can share with you our top stories!