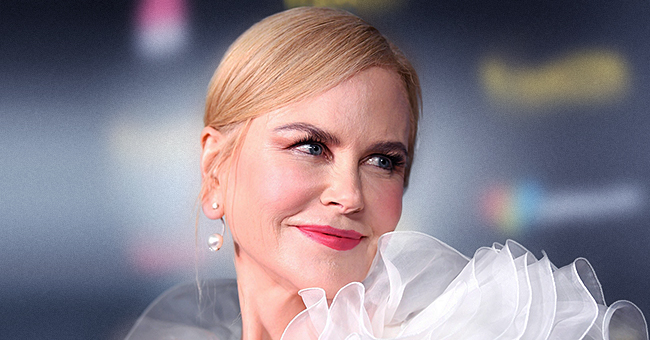 Getty Images
Nicole Kidman Shares a Photo of Her and Keith Urban's Children for Daughter Sunday's Birthday
Nicole Kidman wished her 11-year-old daughter a Happy Birthday in a rare picture of both girls which she shared to social media.
The 52-year-old took to Instagram on Sunday to wish her eldest daughter — whose name is actually Sunday — a Happy Birthday. She shares Sunday with husband Keith Urban.
She captioned the photo with the simple celebratory words as she called her daughter darling. She also hashtagged their location as Paris. The post is found below.
The photo featured Kidman and Urban's two girls, Sunday and her eight-year-old sister Faith, standing in front of the famed Musee d'Orsay clock. As it was taken from the back, their faces were hidden.
Kidman rarely shares pictures of her girls, and when she does their faces are either covered up or turned away from the camera. Kidman gave an idea of how long she and her family were in the French city.
A day before, she shared a photo of her and Urban, 51, walking hand in hand through the Tuileries Gardens in Paris. And before that, they enjoyed Italy's Taormina Film Festival and their Greek theatre.
Kidman last showed her daughters off in a May photo taken just before she arrived at the premiere for HBO's "Big Little lies." Even then, the actress had their faces tucked into her chest as she smiled at the camera.
"I am nothing without the love of my family," she wrote in the caption. Kidman is not only protective of her girls, but she's set rules in place for them.
When she spoke to Vanity Fair a month earlier, she told them that "[the girls] don't have a phone and I don't allow them to have an Instagram. I try to keep some sort of boundaries."
Kidman, who also has two older children with ex-husband Tom Cruise, also spoke on whether or not the girls might follow in her footsteps. "You can't really get kids into anything, I've realized," she said.
She further explained: "You can push them a bit, but motivation is a really hard thing. I mean, nobody motivated me to be an actor; if anything they tried to deter me."
Still, a recent interview with You magazine revealed that the girls have made their television debut already. Kidman said the two appear as extras in a playground scene on "Big Little Lies."
She also shared that "they're not coddled on the set. And that's good for them. It's given them a stronger understanding of what I do; it's made us all closer."
Despite her decision to keep her daughters hidden as much as possible, Kidman was spotted with them back in March when they visited her on the set of the new show, "The Undoing," which will be released next year.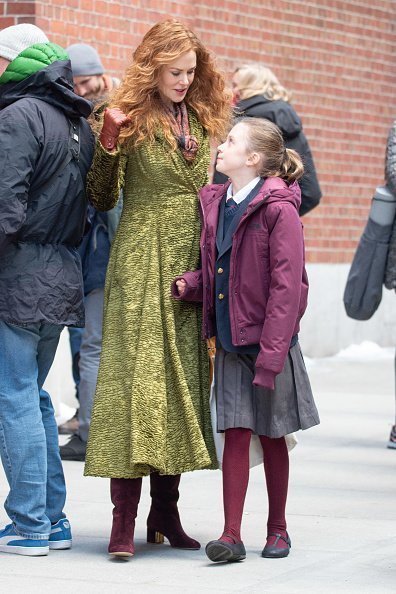 Nicole Kidman on the set of 'The Undoing' with her daughter in New York City. | Photo: Getty Images.
Of course, admirers took photographs of the sweet girls, both wearing their navy blue uniforms with burgundy jackets and long matching socks. Coincidentally, Kidman also wore burgundy boots.
The red-haired beauty was also donned in a long green dress and had on brown gloves. We hope that she continues to enjoy family time and wish her daughter a happy belated birthday.
Please fill in your e-mail so we can share with you our top stories!