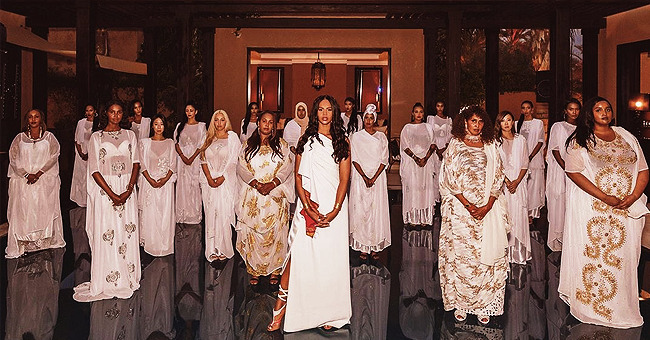 Instagram/sabrinaelba
Idris Elba's Wife Sabrina Reveals Two More Bridal Gowns from Her Moroccan Wedding
Shortly after Idris and Sabrina set the media on fire with their Moroccan themed union, held at the Ksar Char-Bagh hotel, Sabrina unveiled two more bridal gowns she wore at the occasion.
Star actress, Sabrina Dhowre Elba took to Instagram to post throwback pictures from her April wedding to Idris Elba. The new bride looked stunning in the photos, but what caught most eyes were the traditional attires she donned.
SABRINA'S DRESSES
Adorned in her Somalian native ensemble, the screen personality could easily pass off as a goddess. One of the gowns detailed her in a plain white gown, that revealed her left shoulder, hidden only by her flowing black tresses. The simple Mataano outfit was accessorized with gold bracelets on both wrists.
Gracing her feet was a pair of white drop-dead heels that could be visible through the side slit of her gown. In another shot, the beautiful 29-year-old wore a flowing dress, lavished with gold embroidery, giving her a more cultural look. One of the uploads showed the newlyweds covered in white sheets while performing a sort of traditional marriage rite.
WHO TAKES THE CREDIT?
It was gathered that the jaw-dropping gowns represented what the beauty queen wore at the wedding ceremony and the reception respectively. The bridal dresses were designed by the reputable Vera Wang while make-up artist, Charlotte Tilbury was responsible for the beautiful face transformation.
The shots were taken by the famous photographer, Sean Thomas. The actress gave the inspiration credits to @saintrecords and @edpeers via her social media post.
THE INSEPARABLE PAIR
The tugging question on everyone's lips since the iconic actor, Idris Elba and his new bride were united in conjugal bliss have been: "Why Morocco?" The couple gave an answer in the July episode of Vogue which featured the newlyweds in its bridal cover.
The media icons revealed that Morocco seemed like a midpoint between East Africa from where the bride descended and West Africa where the family of the sexiest man alive, were resident. Despite their varying African origin, the duo have connected beyond the marriage vows.
Elba stated in an interview that they have been inseparable since their first meeting in Canada, during the shoot of the 2017 movie titled, "The Mountain Between Us."
Please fill in your e-mail so we can share with you our top stories!