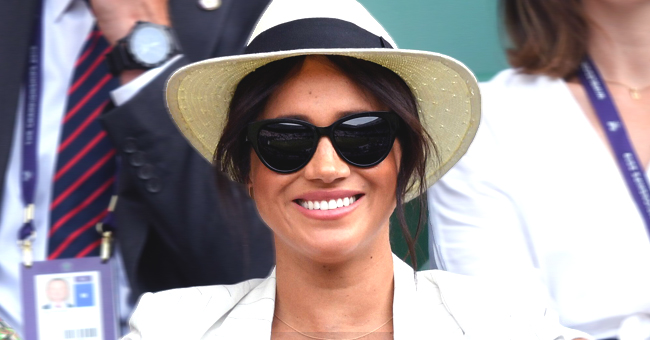 Getty images
People at Wimbledon Reportedly Advised to Abstain from Taking Photos of Meghan Markle

Meghan Markle reportedly "Advised" people not to take her photo at Wimbledon, and it resulted in a significant backlash and a call to return to her country.
Last Thursday, Meghan Markle attended Wimbledon, and in the few hours, she spent there, the Duchess of Sussex reportedly "Advised" fellow spectators not to take her photo.
According to the Daily Mail, Markle's bodyguards got tasked with ensuring that the people in Court 1 did not take the Duchess' photo as she was at the game in a "Private capacity."
The instruction did not sit well with those the bodyguard approached, and Sally Jones, a former sports broadcaster for BBC and ITV, told the news outlet that she considers the former actress' behavior as "Childish and control-freaky."
Jones recounted that she was unaware of the Duchess' presence until one of her bodyguards tapped her, and warned her not to take the Duchess' photo on the grounds of privacy.
The former broadcaster made it clear that she only intended to take a photo of the tennis star she came to watch and pointed out that Markle kept looking around to make sure that no one was snapping her.
Jones equally told Daily Mail that the former "Suits" star and Prince Harry, are supposed to act as Royals performing a public duty, but instead, they behave like A-list celebrities.
Piers Morgan, a vocal critic of Markle, also aired his view on the "Advise" on "Good Morning Britain." Morgan called having a "Private capacity" at Wimbledon, "Ridiculous and hypocritical." He pointed out that the Duke and Duchess of Sussex are not private people, and sent the mother-of-one a message, saying,
"If you want to be private, go back to America."
A royal source defended Markle, saying, it was not uncommon for members of the Royal family to ask for privacy at events, as it allows them to focus on the task at hand, and engage with people rather than cameras.
There were about 200 cameramen who captured the Duchess at the tennis game; the rule didn't apply to them, but about forty seats around the actress stayed empty throughout the game.
Markle attended Wimbledon with her college friends, Lindsey Roth, and Genevieve Hillis, and they were there to support the royal's close friend, Serena Williams.
The Duchess appeared happy and relaxed as she watched the game and when Williams won Slovenia's Kaja Juvan, after three sets, she stood up along with her friends to give the 23 Grand Slam winner a standing ovation.
Buckingham Palace is yet to comment on the controversy.
Please fill in your e-mail so we can share with you our top stories!