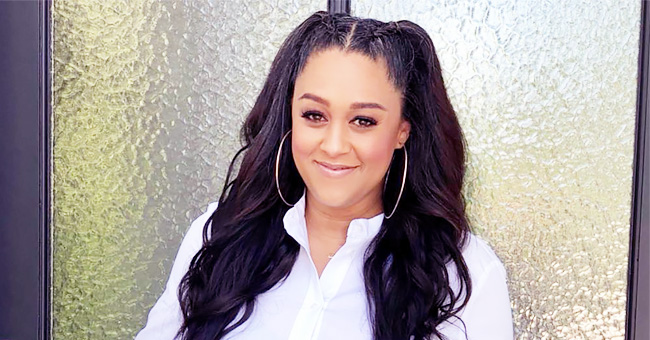 Instagram/tiamowry
See the 'Many Faces' of Tia Mowry's Daughter Cairo in Her Pink 2-Piece Swimsuit
Tia Mowry's daughter Cairo is growing up fast, and in recent pics from the family's vacation in Hawaii, Mowry managed to capture some of the toddler's facial expressions, leaving fans in awe of her cuteness.
Tia Mowry and her husband, Cory Hardrict, recently went on vacation with their two kids, Cairo and Cree to Hawaii.
The "Sister, Sister" actress managed to capture and share some memorable photos from the trip on Instagram, and a series of pics of her 1-year-old daughter, Cairo, effortlessly melted her fans' hearts.
In the shots, Cairo is lounging on a pool chair under a tent, rocking a striped white and red two-piece swimsuit and pink sneakers. In the first pic, Cairo can be seen giggling, and on the next two, she has a hilarious expression on her face.
"The many faces of #cairo," Mowry captioned the post.
FANS' REACTIONS
Fans of the "Tia Mowry's Quick Fix" star filled the comment section gushing about Cairo's cuteness and how fast she's growing up.
"Omg!!! Cuteness overload! These pics just made me smile so much!" wrote one user.
"If you're spanking your kid, in my opinion, it's because of you. It's because of you and where you are in your headspace."
Another added, "Omg. Cairo is growing up before our eyes! She's starting to look a bit like you."
And a third one raved,
"Look at that pretty baby just growing and growing such a sweetie."
CAIRO'S ON THE MOVE
Just a few days later, Tia shared a video of little Cairo walking with confidence around their home, as she and her husband encouraged the adorable girl to keep going.
Cairo, wearing a pink onesie, white socks, and shoes, and a pink headband with a big flower, kept a smile on her face the whole time, as Mowry can be heard in the background saying "Hi boo boo, where are you going? Look who's walking!"
She captioned the clip saying, "Someone's walking #cairo #firststeps #motherhood."
Cairo celebrated her first birthday last May with a bohemian-inspired birthday bash that included flower crowns for her and Tia, and the visit of a beautiful Mermaid, as Tia says Cairo loves them.
RAISING HER CHILDREN IN A NON-TRADITIONAL WAY
In a recent visit to "The Breakfast Club," Tia opened up about her parenting style, stating that unlike her twin sister Tamera, she prefers to raise her kids in a "non-traditional" way.
She explained that she prefers to go with the flow instead of putting so many rules on her children. For example, she said, Tia leaves her kids to sleep on the bed with her and her husband until they get tired of it.
When asked about discipline, Tia said she doesn't spank her children, adding:
"My mom, she was very, very strict, still is. I grew up being spanked. It's awesome, and it's great to an extent if that's the way you want to parent, but I see it differently. If you're spanking your kid, in my opinion, it's because of you. It's because of you and where you are in your headspace."
And continued:
"You're impatient; you just want to get this done and over with, whereas if you [do spare] the rod, then it takes more time, you have to talk to them, you have to explain. But I feel like there is, in my opinion, a better outcome because you're explaining and you're saying why, as opposed to just hitting them. But that's just my opinion."
Mowry revealed that she's afraid her kids will be scared of her growing up, and she wants to make sure they see her as a friend to whom they can talk and lean on whenever they need it.
Of course, there will be times when they're like, 'I don't want to tell my mom.' But I want them to be able not to be afraid of me," she concluded.
Please fill in your e-mail so we can share with you our top stories!