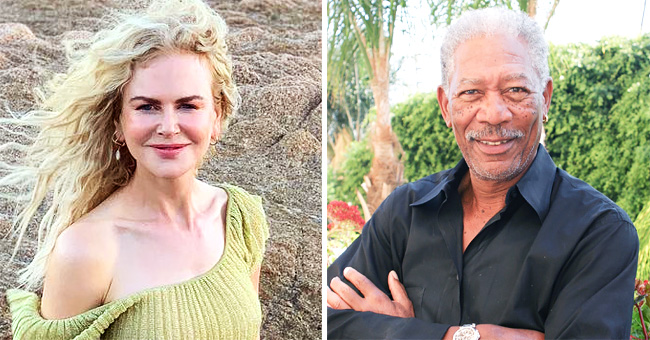 instagram.com/nicolekidman + Getty Images
Top Ten Famous Gemini Stars

Gemini, the third sign of the zodiac, is an air sign symbolized with twins. Mercury rules it and, most of the times, they are a mix between the yin and the yang.
People who were born between May 21 and June 20 fall under this sign. According to Astrology Zodiac Signs, Gemini people are gentle, affectionate, curious, and able to learn quickly. However, they can also be nervous and indecisive.
With this information in mind, let us know if you believe that these ten Gemini celebrities are similar to what their sign suggest.
1. Nicole Kidman
Nicole Kidman, the Australian-American actress born on June 20, 1967, has been one of the most popular actresses of the industry for more than two decades. She is best known for "Eyes Wide Shut," The Hours," and "Moulin Rouge!"
At the moment, the 52-year-old actress has won over 100 awards, including one Oscar, three Critics' Choice, four Golden Globes, one SAGA, and two Primetime Emmy awards.
2. Morgan Freeman
Born on June 1, 1937, Morgan Freeman is one of the most recognized faces in Hollywood. Some of the top projects he has worked in are "Million Dollar Baby," "Seven," and "Bruce Almighty."
So far, Freeman, who also worked as a narrator for "March of the Penguins" and "Through the Wormhole," has won one Oscar, one Golden Globe, seven NAACP Image, and one SAGA awards.
3. Angelina Jolie
Angelina Jolie, born on June 4, 1975, is best known for playing Lara Croft in "Tomb Raider," the rile that established her as a leading actress in Hollywood. Apart from that, she worked in "Girl, Interrupted," "Mr. & Mrs. Smith," and "Maleficent."
The 44-year-old actress has won one Oscar, three Golden Globe, two SAGA, and two People's Choice awards. Nowadays, Jolie is working on several projects, including Marvel's "The Eternals" and "The One and Only Ivan."
4. Johnny Depp
Johnny Deep, best known as Jack Sparrow in the "Pirates of the Caribbean" series, was born on June 9, 1963. He is often labeled as one of the most versatile actors in Hollywood at the moment.
Despite his impressive performances, he has not won an Academy Award yet. However, he has one Golden Globe, 14 People's Choice, one SAGA, and five MTV Movie & TV awards.
5. Octavia Spencer
Born on May 25, 1972, Octavia Spencer is the first black actress to have received two consecutive Oscar nominations. While "The Help" is the most memorable film Spencer has worked on, she has also taken roles in "Blues for Willadean," "Black or White," and "Hidden Figures."
So far, she has won one Academy Award, one BAFTA, one Golden Globe, three SAGAs, and two NAACP Awards. At the moment, Spencer is working as an actress and executive producer of "Truth Be Told" and "Madam C. J. Walker."
6. Michael J. Fox
Michael J. Fox, the Canadian-American actor best known for the "Back to the Future" trilogy, was born on June 9, 1961. Apart from that, he appeared in "Where the Rivers Flow North," and "The American President."
The 58-year-old actor revealed in 1998 that he has been dealing with Parkinson's disease since 1991. From 1999 on, Fox has been providing his voice for different characters in films, including Stuart Little and Milo James in "Atlantis: The Lost Empire."
7. Patti LaBelle
Singer and actress Patti LaBelle, born on May 24, 1944, started her career in the vocal group Patti LaBelle and the Bluebelles but began a very successful solo career in 1976. Apart from that, she has worked in the filming industry, too, in projects like "Sing" and "Semi-Pro."
As for her awards, LaBelle has got two Grammys, seven Image, one American Music, and one GLAAD award. Apart from that, she was inducted into the Songwriter's Hall of Fame.
8. Helen Hunt
Helen Hunt, born on June 15, 1963, is the actress best known as Jamie Buchman in "Mad About You," but she has also worked in "As Good as It Gets," "The Sessions," and "What Women Want."
So far, Hunt has got one Oscar, two SAGA, four Golden Globes, and four Primetime Emmy awards. Nowadays, the 56-year-old actress is working in "The Night Clerk," which release date has not been announced yet.
9. Malcolm McDowell
Born on June 13, 1943, Malcolm McDowell is an English actor best known for "A Clockwork Orange," "Caligula," "Kids of the Round Table," and "Star Trek Generations."
At 76 years of age, McDowell is still active in the industry as he is expected to appear in an untitled Charles Randolph's project as Rupert Murdoch.
10. Chris Evans
Chris Evans, the actor best known as Captain America in the Marvel Cinematic Universe, was born on June 13, 1981. Even though Steve Rogers is his most important role in Marvel films, he also portrayed the Human Torch in "Fantastic Four."
The 38-year-old actor has worked out of the MCU, of course, including films like "Cellular," "Scott Pilgrim vs. the World," and "Gifted." At the moment, Evans is expected to play Andy Barber in the upcoming TV show "Defending Jacob."
Please fill in your e-mail so we can share with you our top stories!