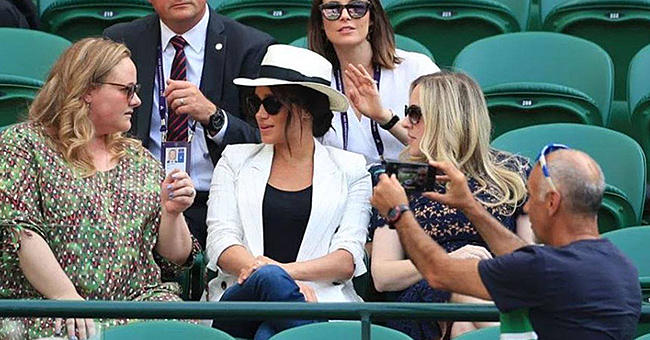 twitter.com/ladbible
Wimbledon Selfie-Snapper Reveals He 'Had no Idea Meghan Markle was There'

The Duchess of Sussex caused a stir when she attended Serena Williams' match at Wimbledon, with everybody trying to get a picture of her. But this selfie-taker claims not to have been aware of her presence.
37-year-old Meghan Markle's attempt at having a day out as an ordinary citizen to watch her friend of the same age Serena Williams play at Wimbledon proved to be a failure when she kept drawing attention from other attendees.
A man, in particular, made headlines after being warned not to take pictures close to the Duchess by one of her security guards, who was always sitting behind Markle and her two friends.
HE DIDN'T EVEN KNOW SHE WAS THERE
That man, who claims to have been taking a selfie with the tennis court as background and not a picture of the Duchess, has gone as far as saying that he wasn't even aware of her presence.
"I honestly couldn't really care less about taking a picture of Meghan, Harry or any of the royals — and, if I did, I'd ask first. I was much more interested in getting a video of Roger Federer in action," 58-year-old Hasan Hasanov said.
A TRUE TENNIS FAN
Hasanov, from Wallington, South London, is a member of a tennis club in his area, and while he considers himself as a monarchist, he wasn't there because of any member of the royal family.
Nevertheless, Hasanov had to face opposition from Markle's security guard who tried to stop him from taking a picture that it was later revealed to be just a selfie, with Markle not in appearance.
"It seemed crazy to me because all I did was take a selfie to send to my wife. I was in the best seat I'd ever had in 15 years of queuing up for Wimbledon and wanted to show off because she didn't get out of bed to join me," Hasanov told The Sun.
HE HAS NOTHING AGAINST THE ROYALS
Hasanov wants no part in the controversy surrounding Markle's ban of photos during the match, which has brought backlash to her, but he defended his right to take a selfie that had nothing to do with her.
"I know lots of people would like to get pictures of Meghan and I know people get cross when she gets upset because she's a public figure," the man stated.
"I won't be getting cross about this because — to be honest — I had no idea what was going on until days later. And I'll stay a fan of the royals," Hasanov added.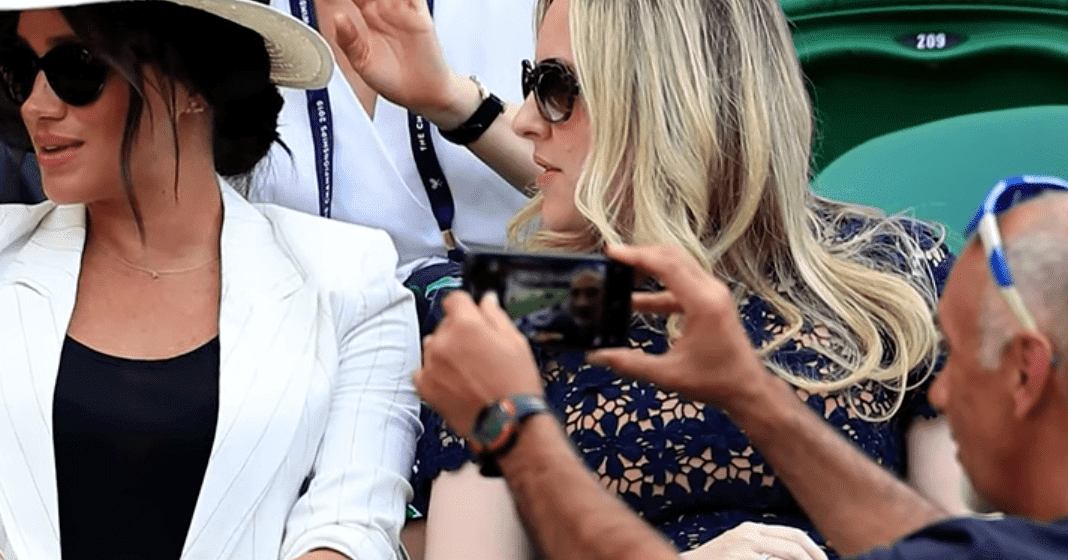 Hasan Hasanov taking a selfie in front of Meghan Markle. I Image: YouTube/ Access
OUT IN PUBLIC WITH ARCHIE
Meanwhile, the public scrutiny on Markle continues, even more so now that she has been making her first outings with her two-month-old son Archie.
Markle and her newborn son she shares with 34-year-old Prince Harry recently attended the latter's polo match against his brother 37-year-old Prince William, where photographers didn't miss the chance to capture images of the Duchess holding Archie in her arms.
But as soon as those photos surfaced, some social media users started to criticize Markle for the way she held her child, in an attempt to mom-shame the Duchess.
"It really does feel that she can't do anything right in public," CNN's Max Foster commented when the network covered the piece of news.
"I went for the official advice. National Health Service in this country says there is no right or wrong way to hold your baby. The important thing is that the parent is comfortable and the baby's head is supported," Foster said in Markle's defense.
Please fill in your e-mail so we can share with you our top stories!