Meghan Markle Spotted at Wimbledon with Kate and Pippa Middleton
The Duchess of Sussex spent a lovely afternoon at Wimbledon and was joined by none other than Kate Middleton, her sister-in-law, and Pippa Middleton.
This was the very first time that the three women were spotted together during an outing and Meghan surely had a good time supporting her good friend Serena Williams.
The 37-year-old took a seat at the royal box, between Kate and Pippa, and enjoyed the match between Williams and Romanian athlete Simona Halep.
Live reactions to the level of tennis on show 😮#Wimbledon pic.twitter.com/NmOgTnGAYY

— Wimbledon (@Wimbledon) July 13, 2019
THEY ARRIVED SEPARATELY
Out of the two Duchesses, Meghan was the last one to arrive at the tournament, mostly because Kate made sure to get there early to meet some of the players.
The Duchess of Cambridge left her three children at home and showed up to the prestigious event wearing a green Dolce & Gabbana dress, while Meghan opted for a white shirt and a pleated skirt from Hugo Boss.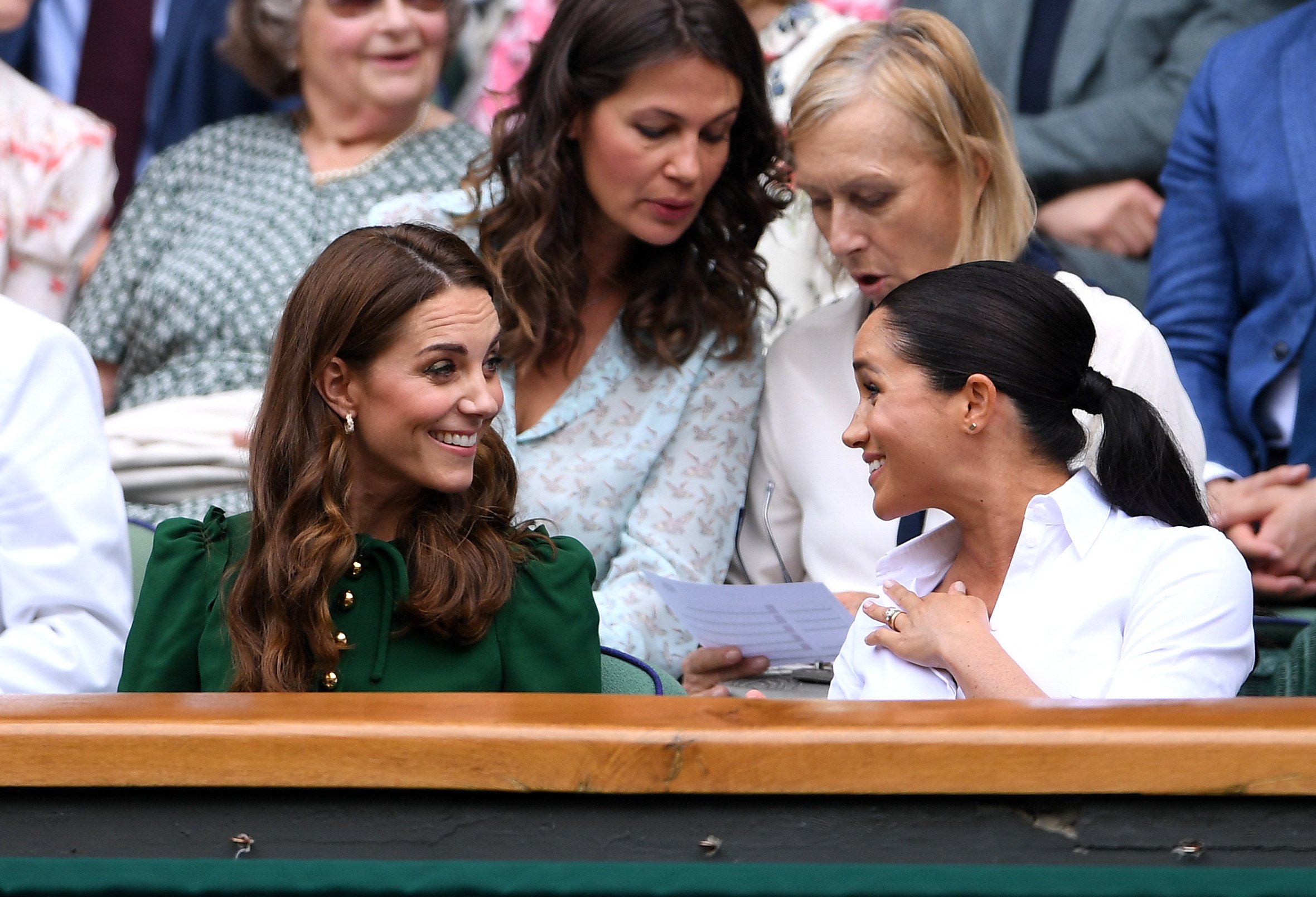 It has also been suggested that Meghan arrived later than Kate because they came from different homes, as the Duke and Duchess of Sussex's new house, Frogmore Cottage, is located 25 miles away from Kensington Palace.
Much like Kate, Meghan arrived at Wimbledon with a bright smile on her face and waved at the royal fans and photographers that happened to spot her.
NOT THE OUTCOME MEGHAN WAS HOPING FOR
Although royals usually refrain from picking favorites, Meghan might have been hoping to see Williams, one of her closest friends, come out on top but that didn't happen.
The American tennis player was beaten 6-2 and 6-2 by Halep, who was crowned the new champion. Still, Meghan followed Kate's example and stood up to applaud the athlete.
With Royal approval 👏#Wimbledon | @Simona_Halep pic.twitter.com/65TDUbkL4b

— Wimbledon (@Wimbledon) July 13, 2019
THE SELFIE CONTROVERSY
The Duchess of Sussex had a great time at Wimbledon, but fans still haven't forgotten Thursday's episode, when a member of her security staff tried to forbid spectators from photographing her.
A man named Hasan Hasanov, who was taking a selfie at the time, was even approached by the security staff thinking that he was trying to take a picture of Meghan.
Meghan Markle's security team allegedly told tennis fans not to take photos of the Duchess at #Wimbledon, with one man questioned over a selfie. https://t.co/OEdx6X6iBb pic.twitter.com/uHL3BzrAef

— news.com.au (@newscomauHQ) July 9, 2019
Later, the 58-year-old said that he "couldn't really care less about taking a picture of Meghan" and that he was "more interested in getting a video of Roger Federer in action."