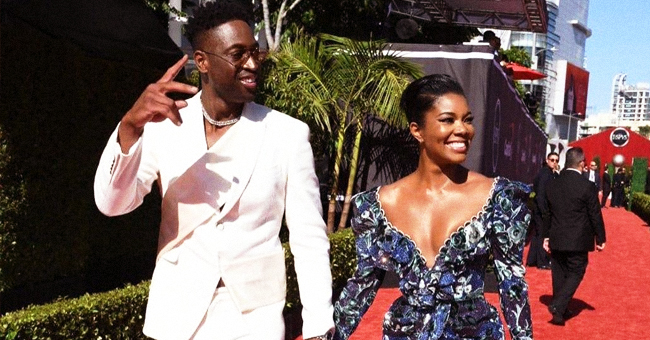 Instagram/gabunion
Dwyane Wade Said He Can't Wait to Marry Gabrielle Union Again at 2019 ESPY Awards
Dwyane Wade gave a speech at the 2019 ESPY Awards in which he revealed that he cannot wait to marry his wife Gabrielle Union again.
Dwyane Wade was honored at the 2019 ESPY Awards, but his acceptance speech was all about paying tribute to his lovely wife, actress Gabrielle Union.
The celebrity couple was at the Microsoft Theater in Los Angeles on July 11, 2019, where the recently retired Miami Heat star shared an award with fellow new retirees Lindsey Vonn and Rob Gronkowski.
"Before I start my speech, I have to say thank you to [New Orleans Saints quarterback] Drew Brees. Because of what you said to your wife onstage, my wife looked at me with a death stare, and said if I don't say something up here, the car ride home is gonna be long." Dwyane Wade
DWYANE WADE "PROPOSES" TO GABRIELLE UNION
Wade started his speech by wryly "thankingt" Drew Brees, who had told his wife Brittany in his speech that he fell more in love with her each day. At which point, Wade claimed, Union gave him "the death stare."
While the camera zoomed in on a laughing Union, Wade went on to tell her she looked incredible, and then he proposed all over again.
"I cannot wait 'til five years from now until I get a chance to marry you again. It's gonna be a little lower budget than the first one, but it's all good," he said.
Wade, who has three sons from previous relationships, and is also raising his nephew
DWYANE WADE AND GABRIELLE UNION'S "FIRST" WEDDING
Wade proposed to Union for the first time in December 2013, and the two tied the knot in a lavish ceremony in Miami in 2014. The happy couple welcomed their first child together, Kaavia, in 2018.
DWYANE WADE RECEIVES CAREER ACHIEVEMENT AWARD
Wade was honored with an Excellence in Sports Performance Yearly Award in recognition of his achievements throughout his career in the NBA. The ESPY is awarded by the television network ABC to outstanding athletes since 1993
DWYANE WADE - IN LOVE WITH HIS WIFE AND HIS FAMILY
One thing that comes through loud and clear in their interviews and the candid shots they share on social media is that the couple is very much in love.
Wade, who has three sons from previous relationships, and is also raising his nephew, is a doting dad to the family's only girl, Kaavia, best known to the world as "shady baby" for her hilariously disapproving frowns.
We can't wait to see the Wades celebrate their love over and over again.
GABRIELLE UNION SUPPORTS STEPSON AT GAY PRIDE PARADE
Gabrielle Union and Dwyane Wade have expressed their full support for 11-year-old Zion Wade, who attended the Miami Beach Gay Pride parade with his stepmom.
Even though the family has not issued any official statements with regards to Zion's sexual identity, the young boy and Union together at the march, and Wade shared the snaps on Insta Story.
In the photos, Zion is wearing a yellow tank top with a tag with the LGBTQ rainbow and green shorts, and Union wore a "WADE" top and dark green shorts.
Well done, Wades, for your unconditional support for your brave young son.
Please fill in your e-mail so we can share with you our top stories!