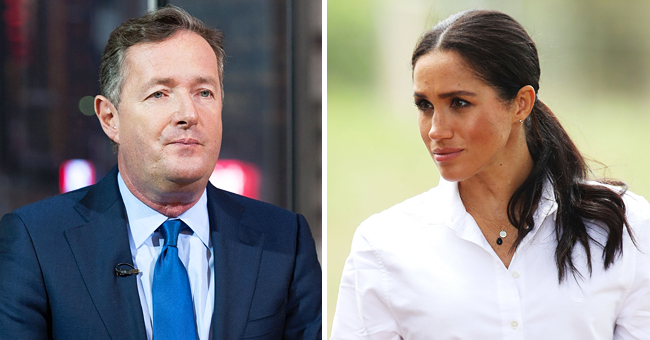 Getty images
Piers Morgan Advises Meghan Markle to Plant Trees like the Queen to Become a 'Popular Princess'

Outspoken British TV anchor, Piers Morgan took the time out to make a list of things Meghan Markle should do to become a popular princess.
The list contains ten things Morgan believes Markle has to do to get on the right side of her public following.
The tenth item is nearly unbelievable as the famous "Good Morning, Britain" co-anchor explained that the Duchess needs to learn to plant trees like Queen Elizabeth recently did. "Plant trees, and do your duty," the tenth rule reads.
"THE BEST FORM OF ROYAL DUTY IS OFTEN THE SIMPLEST" – MORGAN
Morgan, who is well known for being outspoken when it comes to matters of the royals, explained the reason for the tenth rule pushing that the little acts matter more when it comes to royal duties.
He used Queen Elizabeth's recent sighting, where she had refused help and instead gotten down and dirty to plant a tree herself, as an example.
He said:
"The Queen showed this week how the best form of royal duty is often the simplest. By shunning help, taking a spade and doing a few seconds of tree planting, she showed the world she's one of us at heart."
Morgan's words, however, didn't end there as he further detailed that being a royal comes with the advantage of not having to do much "to win hearts and minds."
He also disclosed that something as seemingly menial as planting trees is found heartwarming by the public and would in no time make Meghan popular and well-loved too if she'd do the same.
Morgan further went on to make an example of Queen Elizabeth's mother who he hinted the Queen must have learned from, he wrote:
"Her mother was revered for the next 60 years after she went and stood in the rubble of London's East End during the Nazi Luftwaffe blitz during World War 2."
Morgan's admonishment finished on the somewhat sensitive subject of Markle being absent when President Donald Trump visited. Morgan:
"Oh, and next time a world leader you detest, like Donald Trump, comes into town, hold your nose and turn up to greet them. That's part of the job, too."
IS MORGAN'S LIST HIS WAY OF DEFENDING MARKLE?
Morgan's list came soon after Markle received backlash for the way she held her son, Archie during a family outing at the Billingbear Polo Club in Wokingham, Surrey.
54-year-old Morgan's July 11 article on Daily Mail came as his form of defending the Duchess. Although admitting he has also criticized her, he expressed understanding for the Duchess' dilemma.
He explained that it is never easy to marry into the British royal family and that the harsh criticisms are a result of Markle's "many bad mistakes since joining the Royal Family."
Her recent spotting alongside Kate Middleton during the family outing can indeed be labeled a grave mistake as netizens took to Twitter to openly bash her for not knowing how to carry Archie "properly." At least, Morgan Piers is on her side this time.
Please fill in your e-mail so we can share with you our top stories!