Donald Glover Tells How Beyoncé's Daughter Blue Ivy Narrated 'Lion King' at Premiere
Donald Glover dished on Blue Ivy Carter's chatty personality during the premiere of "The Lion King." Seth Rogan added that she was especially fascinated with one aspect of the live-action film.
The Hollywood premiere of "The Lion King" was a star-studded affair. But there was one little star that night who made quite the impression on the film's actors, Donald Glover and Seth Rogen. It was their co-star, Beyonce's daughter, Blue Ivy Carter who they recall was as entertaining as the movie itself.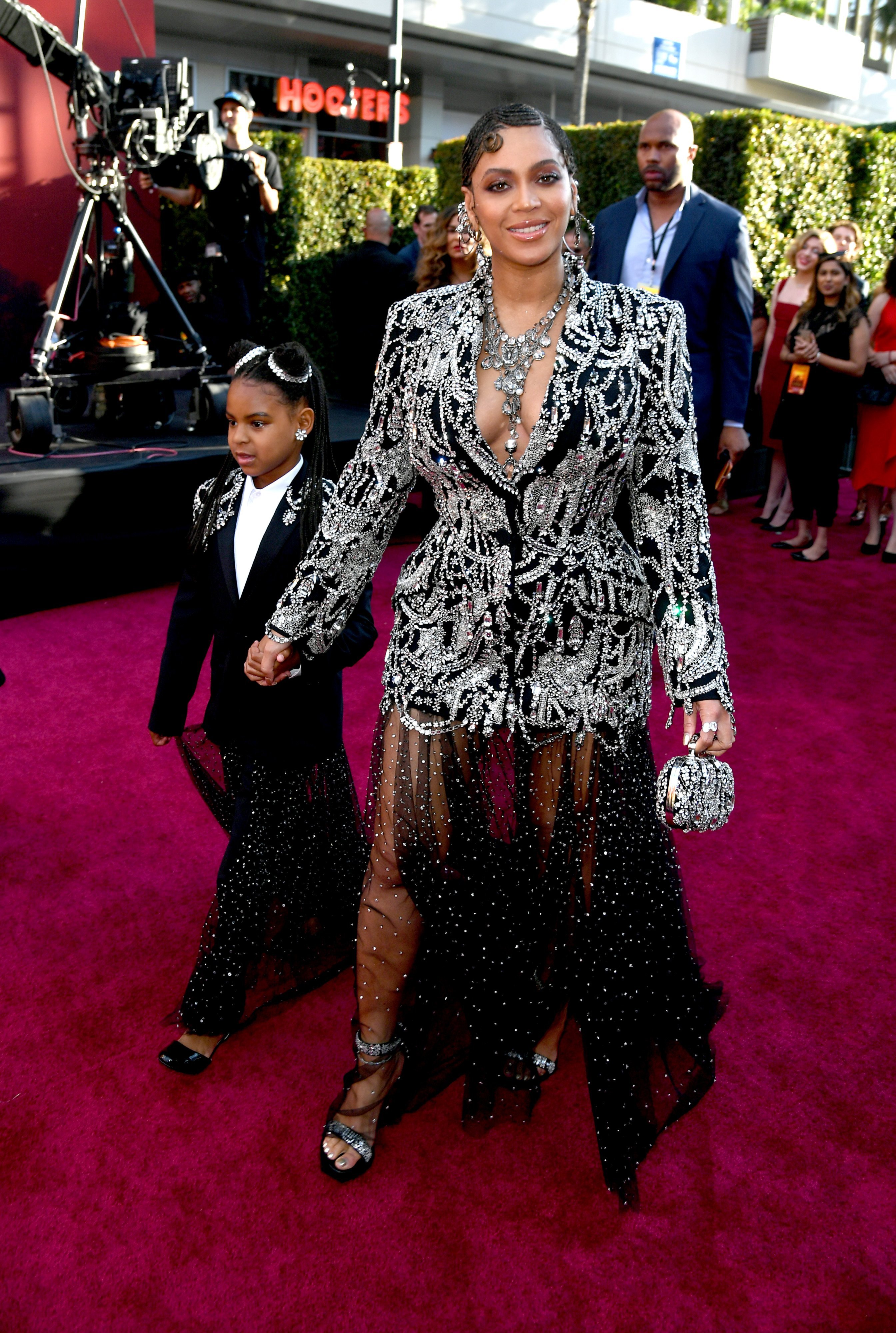 DONALD TALKS BLUE IVY AND HER NARRATION
ET caught up with Donald after the film's screening and he revealed Blue was quite the narrator. The actor who brought along his two-year-old son, Legend and sat close to Beyonce and Blue said the chatty six-year-old would comment on the scenes like she knew the movie before everyone else.
"She was behind us. So, like, Ivy Blue was, like, narrating the movie." Donald, who plays the character Simba in the film recounted. "[Blue Ivy] was like, 'Scar, like he's lying.' And my son was like, 'What? Who is that? She knew the movie already, it was awesome."
"Very early in the movie I heard her just go, 'Are they talking?' I think she thought they were real animals..."
SETH SPEAKS OF BLUE'S FASCINATION WITH THE FILM
Donald's co-star, Seth who heard the discussion chimed in agreement. 
"She was. I heard her the whole time," he said and added that Blue appeared to be fascinated by the idea of the animals talking in the live-action film.
"Very early in the movie I heard her just go, 'Are they talking?' I think she thought they were real animals... She thought it was real. 'Oh my God, they got these animals to talk!' Disney is a powerful company."
ON BEYONCE GETTING A STANDING OVATION "FOR JUST EXISTING"
Granted that Blue drew attention to her animated narration during the screening and when she shined with her mother on the red carpet wearing matching outfits, Seth revealed it was Beyonce who got a standing ovation "for just existing." The comedian disclosed this during his interview on "Jimmy Kimmel Live!" following the screening. 
"Beyonce was called out and the audience stood up and went crazy.I was like, 'She's getting a standing ovation for just existing.' Like, her mere presence was a reason to stand and go crazy, and I totally got it. I was like, 'Yeah, we should be celebrating. We made it. We're all in a room with Beyonce. That's what you want,"' he said.
Beyonce plays Nala in the film and her participation is expected to draw audiences to the theaters.  Ahead of the premiere, she already elicited excitement when a teaser for the film was released. It helps that she's also the curator and producer of the film's soundtrack which boasts of original music apart from its trademark songs. 
Director John Favreau recognizes too that Beyonce and Donald's participation in the film adds another dimension to their acting since both are singers by profession. 
"They present something totally new and exciting. These are real musicians bringing their creative voices to this," he explains in a featurette of behind the scenes footage from the film.