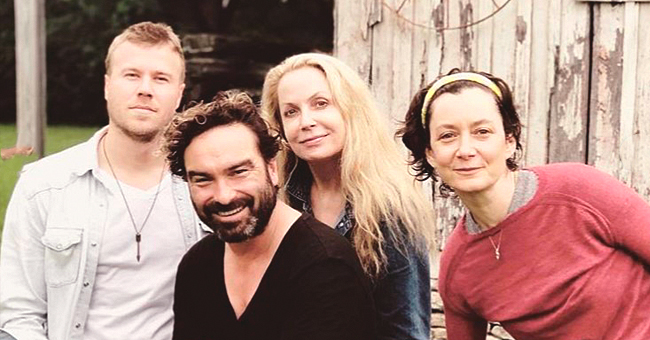 instagram.com/sanctionedjohnnygalecki
Sara Gilbert and 'Roseanne' Co-Star Johnny Galecki Reunite in Pictures
Fans of "Roseanne" and "The Big Bang Theory" got nostalgic feelings when two of their favourite stars, Sara Gilbert and Johnny Galecki posed for a photograph. Johnny posted pictures featuring the pair on his Instagram page.
Sara Gilbert and Johnny Galecki seem to be inseparable— on-screen at least. Having been cast together in two separate sitcoms, the two reunited for a photograph, posted on Johnny's Instagram page.
When fans saw the images, many couldn't help but have feelings of nostalgia, while some attested to the fact that the stars have a special on-screen chemistry.
JOHNNY'S INSTAGRAM POST
Johnny Galecki shared two pictures on his Instagram page, which had Sara Gilbert, alongside the producer of "The Big Bang Theory," Mary Quigley, and actor, Cory Michael-Wood.
Fans were ecstatic after the photo release, with one fan, in particular, commenting: "David and Darlene Forever."
SARA AND JOHNNY'S WORKING HISTORY
The pair, both aged 44, were first cast together in the sitcom, "Roseanne," where they acted as a couple. Johnny played the role of David Healy, husband to Sara's character, Darlene Connor.
They played the role so well and caught the eyes of fans and producers alike. Soon, they reunited in "The Big Bang Theory," for roles that would see their on-screen romance continue.
In the sitcom, Galecki's character, Leonard Hofstadter was known to have numerous flings with Sara's character, Leslie Winkle.
WHAT ARE THE STARS UP TO NOW?
The month of May marked the end of one of television's favourite shows, "The Big Bang Theory." After the series ended, Johnny Galecki announced that he and his girlfriend, Alaina Meyer, are expecting a baby — his first child.
The star and his girlfriend hosted a gender reveal paint party, where it was revealed that the baby would be a boy. The party hillariously turned messy as the happy and expectant parents were covered in paint at the end.
Gilbert, on the other hand recently quit her role on the television talk show, "The Talk." She made this known while making an appearance on the podcast of Variety's "My Favorite Episode."
The announcement marked the end of her time on the show, nine years after she first began hosting it. However, she still plays the role of Darlene in "The Conners," a spin-off of "Roseanne." The new series will soon be back for its second season.
Please fill in your e-mail so we can share with you our top stories!