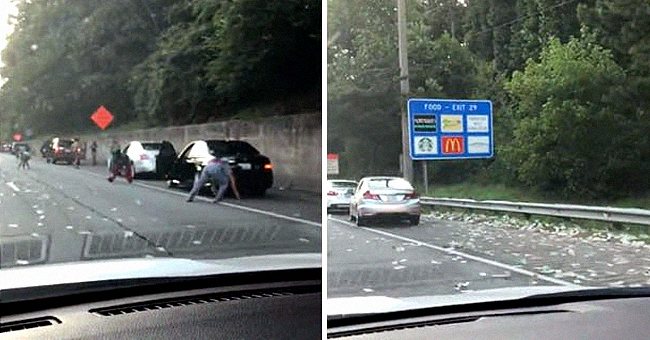 twitter.com/Daily_Star
People Stop on I-285 to Grab Money as Armoured Truck Loses about $175,000
New footage of people stopping on a busy highway in Georgia to pick up cash flying about in the air is fast going viral.
Via YouTube, WSB-TV shared a clip of the bizarre incident which took place on I-285. It happened last week Tuesday, in the evening when the door of an armored car opened and money flew out into the open air.
It made for an unbelievable sight as people rushed to grab the money, which police revealed was of a "substantial" amount. With almost no care for the danger they faced on the busy interstate road, cars stopped and not only to behold the rare sight but to pick up the cash.
A traffic trooper for WSB Radio informed the newsroom that he was a witness to the occurrence. He reported that it happened as he was driving about 285 Westbound near Ashford-Dunwoody Road.
Authorities at the site also confirmed the reports. Sergeant Robert Parsons with Dunwoody police spoke to WSB Radio and explained the source of the cash.
Sgt. Parsons said:
"An armored car was traveling on 285 West when the side door came open, and an unknown amount of money flew out onto the highway."
He labeled the occurrence a "very bizarre" one that he had only witnessed in movies before that. Parsons said to sources:
"This is the first one I can think of."
Investigation to find out the exact amount of money missing is still ongoing, but they believe it may be well over $100,000! A UNILAD article reports that authorities were alerted to the incident by a 911 call, which said:
"15 plus vehicles had stopped, and people were frantically taking the money."
Thankfully, there have been no reports of injuries from the incident. One crucial thing to note, however, is that picking the money is punishable under the US law.
The ruling states that anyone who finds a lost property must do his/her possible best to locate the owner of that property before they can claim it. Thus, the people who stopped to take the money, whether aware of the law or oblivious to it, could be charged with theft of lost or mislaid property, a misdemeanor under Georgia law.
Rather than jump at cash flying in the air, learn how to make millions by saving a little each week. This LADbible article details a plan that can prove very helpful if you go through with it.
Please fill in your e-mail so we can share with you our top stories!