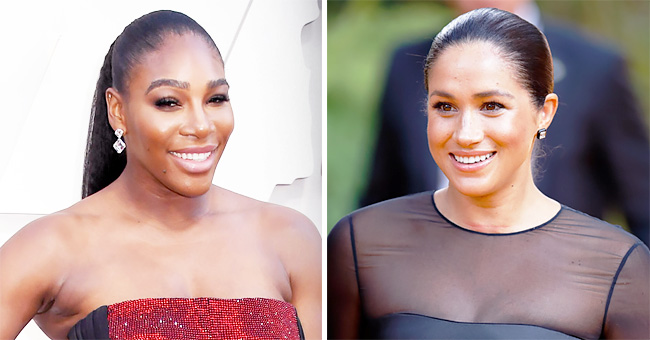 Getty Images
Serena Williams Praises 'Great Friend' Meghan Markle after Losing Wimbledon Final
Serena Williams lost in Wimbledon to Simona Halep but was consoled by her old friend Meghan Markle.
Serena Williams fans who were hoping to see her win her 8th Wimbledon title were sadly disappointed when the champ lost to Romania's Simona Halep.
Among those cheering Serena, 37, were two Royal Duchesses - Katherine of Cambridge, and the tennis champ's personal friend, Meghan of Sussex.
SERENA WILLIAMS CONGRATULATED SIMONA HALEP
Serena, who is considered one of the most outstanding female athletes of all time, congratulated Simona on her well-merited victory and revealed that Duchess Meghan also felicitated the new Wimbledon champion.
"She too is happy for Simona. She saw that she played unbelievably, and that's just the kind of person that she is," Serena said.
MEGHAN AND KATE TOGETHER AT WIMBLEDON AGAIN
The last time Duchess Meghan and Duchess Kate appeared together in public without their husbands was at last year's tournament. The duchesses were joined by Kate's sister, Pippa Middleton.
PRESS DELIGHTED TO SEE KATE AND MEGHAN TOGETHER
After months of scurrilous rumors and speculation by the press that insinuated that the two women were at odds, the Duchesses teamed up to enjoy the women's Wimbledon final.
"The Duchess of Cambridge, @Wimbledon Patron, and The Duchess of Sussex attended the #Wimbledon ? Ladies' Singles Final today. Well done to Serena Williams and Simona Halep on a fantastic match, and congratulations Simona on your first Wimbledon title!" Kensington Palace
SERENA WILLIAMS IS COMFORTED BY DUCHESS MEGHAN'S FRIENDSHIP
After the match, Serena told reporters how much Meghan's presence in the stands and her continuing support has meant to her.
"She's such a great friend and a great person as well. And always positive, no matter what. It's so good to have people like that, just to know," she said.
Asked if she ever gave the Duchess advice on mothering, Serena replied:
"I never pass on words of wisdom because I feel like everyone, when they have a kid, especially when you just have a baby, it is so difficult to just be. And it's just like, get through the first three months, four months, and then we can talk."
Like Meghan, who has a newborn baby son, Archie, Serena is also a new mom, with a 1-year-old baby girl, Olympia, whom she shares with Reddit co-founder Alexis Ohanian.
WHY SERENA WILLIAMS TOLD MEGHAN MARKLE SHE IS "TOO NICE"
One of Duchess Meghan of Sussex's closest friends, Serena Williams, admitted that she gave her some unusual advice while she was pregnant.
"I'm like, 'How are you?' and she's like, 'No, how are you?' and I'm like, 'You're so sweet, but I'm really asking – how are YOU?' I'm like, 'Meghan, stop being so nice…you're the pregnant one, aren't you supposed to have hormones, why are you so sweet?' But that's always been her," Serena said.
Serena revealed that Meghan's selfless concern for others sometimes leaves her own wellbeing behind.
The two moms share parenting tips, but Serena admits that she gets a lot more than she gives.
Please fill in your e-mail so we can share with you our top stories!