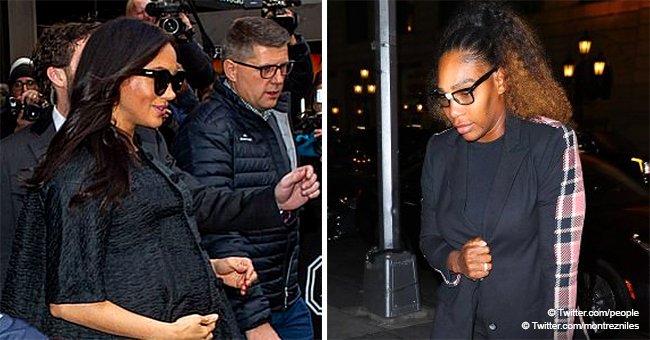 Meghan Markle and Serena Williams reunite for dinner in NYC after $80K baby shower

Seven months pregnant Meghan Markle went on a night out with her close friends while on a quick trip to New York for her luxurious but intimate baby shower.
Meghan Markle made the most of her five-night surprise trip to New York to catch up with friends. Following her busy day at her baby shower at The Mark hotel, she was spotted at a fancy dinner with pals Serena Williams, Jessica Mulroney, and Markus Anderson.
Meghan arrived at The Polo Bar in Manhattan dressed in a navy Victoria Beckham coat, maternity jeans and black boots. Outside the restaurant, Markus greeted her before they walked inside arm in arm. Shortly after, Serena arrived in an all-black ensemble followed by Toronto based stylist, Jessica.
The foursome reportedly spent three hours inside the restaurant, no doubt catching up after months of distance keeping them apart. Each of Meghan's pals shares a special history with her, something Meghan cherishes even after she moved to London.
Meghan and Serena have known each other since meeting at the Super Bowl in 2010. They reportedly keep in touch often despite their distance. Serena even joined Meghan during one of Harry's polo matches a few months after the royals wed.
Jessica has been Meghan's stylist for years and her children had important roles during the royal's wedding to Prince Harry.
Meanwhile, Markus was the man responsible for introducing Meghan to her prince. What could be more significant than that?
Meghan's friends were also present at her baby shower which was reportedly hosted by Serena and George Clooney's wife, Amal Clooney. The extravagant affair was held at the penthouse of The Mark hotel which reportedly costs $75,000 a night.
The room was decked with an array of flowers including pricey peonies and roses. It also had an intimate guest list which included Meghan's "Suits" co-star Abigail Spencer, Gayle King, Priyanka Chopra, Misha Nonoo, Taryn Toomy, and Daniel Martin. Noticeably absent from the occasion was Meghan's mother, Doria Ragland who was reportedly in Los Angeles at the time.
The affair was reportedly fit for a royal racking up over $80k in expenses. Besides the cost of the room, the peonies alone are estimated to cost $15 a stem or $180 per arrangement while the roses were projected to have cost $85 per arrangement. With at least 20 arrangements for each flower, the bill for the floral decorations alone is estimated at $5k. Entertainment was provided by harpist Erin Hill who usually charges from $300 to $600 for weddings.
Witnesses of the comings and goings at the luxurious hotel couldn't help but look for clues regarding the gender of the upcoming royal baby. Guests were reportedly carrying blue colored gifts but the roses delivered to the room were pink. While it's unclear if the Sussexes will be having a boy or a girl, what's certain is in a couple of months, the child will be born. Meghan is now 7 months pregnant and it's been confirmed in the past that she'll be giving birth in the spring.
Please fill in your e-mail so we can share with you our top stories!