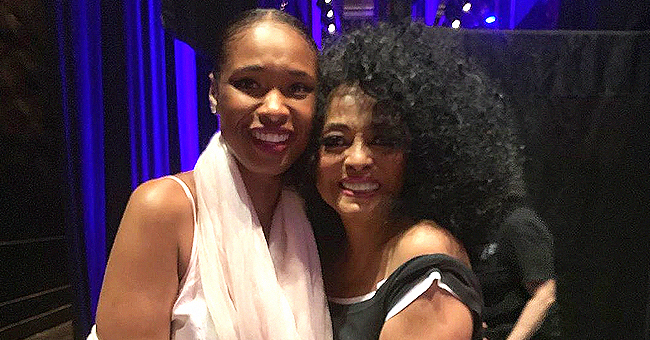 instagram.com/iamjhud
Diana Ross Shocked Jennifer Hudson by Selecting Her to Sing a Duet on Stage

A stunned Jennifer Hudson joined Diana Ross on stage for an epic duet she admits was a dream come true. "I did not see this coming," she said expressing her shock over the rare moment.
Fans of Diana Ross including Jennifer Hudson delighted in the special treat of the two singing superstars on one stage during Ross's recent concert in Chicago. "Am I dreaming?" Hudson asked sharing a clip from their duet that was totally unplanned.
"I DID NOT SEE THIS COMING"
Hudson was among the audience mesmerized by Ross's voice which resonated inside the Chicago Theatre on Thursday. Never in her wildest dreams did she imagine that the "Supremes" frontrunner would invite her on stage to perform with her.
"I did not see this coming ! On tonight I went to see @dianaross in concert, at best I wanted a picture," the "American Idol" winner wrote to caption a clip of her hesitant self in shock over the iconic singer requesting her on stage. "I surely didn't expect or believe it when they told me @dianaross want you to come to the stage ! if @dianaross say for u to come to the stage , u come to the stage !"
"To think all I wanted was a picture and ended up living a dream ! @dianaross blew me away tonight!"
"AM I DREAMING?"
That clip would be one of many the singer eventually shared on her Instagram revealing the highlights of her encounter with the 75-year-old star.
"Am I dreaming?" she writes in one of them. "omg this is @dianaross yal!!!!! #inshock."
Hudson was clearly humbled and shocked by the experience as she blended voices with her idol singing "Endless Love." Her expression was priceless staring at Ross and trying not to cry in awe.
"ALL I WANTED WAS A PICTURE"
After the concert, she went backstage for a picture with the superstar since that was her only goal from the beginning. She didn't expect it would turn out to be more.
"To think all I wanted was a picture and ended up living a dream ! @dianaross blew me away tonight!" she expressed to caption their pic which will no doubt be framed in her home.
"YOU DIDN'T COME TO MY BIRTHDAY"
Ross chided Jennifer at one point during the show for not attending her 75th birthday bash.
"You didn't come to my birthday, Beyoncé was there," she teased.
The birthday bash she was referring to was the epic party she hosted in March with no less than Beyonce serenading her with the birthday song. Hudson must have regretted not attending because it looks like only those who were there will ever be privy to the events that night. Ross sadly revealed recently that she lost all the footage from the star-studded affair. It was in a flash drive that's been misplaced.
Luckily for Hudson, though she wasn't there to witness the glamorous fete and the concert that was held after, she got to share the stage with the superstar. That's a memory that doesn't need to be documented because it'll probably be ingrained in her brain for all eternity.
Please fill in your e-mail so we can share with you our top stories!