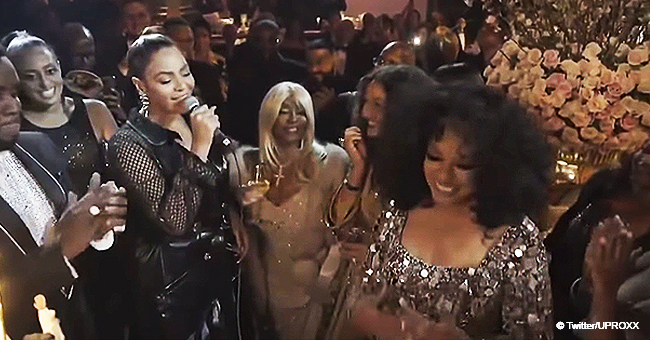 Beyonce Sings 'Happy Birthday' to Diana Ross at Her Extravagant 75th Birthday Party

Beyonce sings her sultry rendition of "Happy Birthday" to Diana Ross in her star-studded 75th birthday bash. A video of the song number was shared by guest Khloe Kardashian.
Diana Ross celebrated her 75th birthday with no less than Beyonce singing her the "Happy Birthday" song.
A clip shot by Khloe Kardashian at Diana Ross' extravagant birthday bash reveals an impromptu number by her guest, Beyonce. Event host Tracee Ellis Ross, Diana's daughter, searched the crowd for someone to sing to her mother when she spotted the "Crazy In Love" singer who was standing nearby.
"Beyonce? Are you still here?" Tracee called out over the mic. "Do you want to sing 'Happy Birthday?' Come on down!"
A beaming Beyonce stepped into the spotlight as she took the mic and serenaded the night's celebrant with her sultry rendition of the iconic birthday tune.
A separate video shared by another guest shows a clearer view of Beyonce singing directly to Diana. Diddy is standing next to Jay-Z's wife as she belts out the song as nobody else can.
Beyonce considers Diana as one of her major influences in music. This much she told Entertainment Weekly in 2006. She also portrayed a character inspired by the legendary "Supremes" singer in the film adaptation of "Dreamgirls." Moreover, she revealed to In Style in 2008 that Diana is one of the fashion icons she looks up to because she "never played it safe."
It is no surprise then that a day before Diana's 75th, Beyonce took to her website to pay tribute to her. "Happy Birthday Diana Ross," she wrote to accompany a photo of a very young Diana.
The star-studded event in honor of the birthday girl was held at the Warwick in Los Angeles. Other guests included Berry Gordy, Kris Jenner, as well as Diana's son and daughter-in-law Evan Ross and Ashlee Simpson.
Coinciding with her birthday, a documentary is set to be released tilted, "Diana Ross: Her Life Love and Legacy." The film which is due for screening on March 26 and 29 will reportedly feature her 1983 free concert in Central Park, New York and interviews from friends and family.
While Diana's documentary is expected to honor her legacy, another documentary that caught her attention recently did the opposite. HBO's "Leaving Neverland" drew controversy for painting a sour picture of Diana's good friend, Michael Jackson. Expressing her disappointment, she tweeted "STOP IN THE NAME OF LOVE" as she showed her support for Michael. "I believe and trust that Michael Jackson was and is A magnificent incredible force to me and to many others."
Michael is the godfather of Diana's son, Evan. Likewise, Diana is the back-up guardian for Michael's three children. That being said, Diana's loyalty is with the King of Pop.
Please fill in your e-mail so we can share with you our top stories!