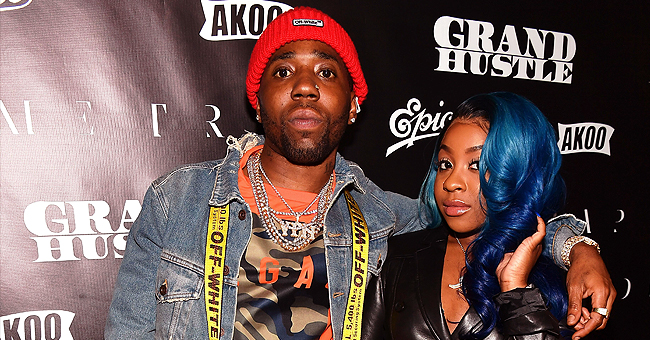 Getty Images
Reginae Carter Reveals Why She Is Still Dating YFN Lucci despite His Behavior

It's been a roller coaster ride for Reginae Carter and YFN Lucci recently, who have been in an on-and-off relationship with one another for quite a while now. Reginae Carter now reveals the reason why she can't seem to let go of her boyfriend, no matter the circumstances.
People have always had their reservations about Reginae's relationship with YFN Lucci, but she's always stood her ground and fought for it.
Now, she finally explained why it seems as if she can't let go of her boyfriend despite being disrespected by him many times in the past. While visiting V-103 with her mom, she shared:
"Right now we're both just doing our own thing. You know with growing up and being so young and having the relationship in the public and having everyone's opinion and everyone feeling like their opinion matters, it's like, it's a little stressful. But honestly, I've been learning that no matter what, I gotta do what's best for me and I gotta follow my heart. I gotta do what makes me happy."
Following her Heart
It's true that a lot of people have voiced out their own opinions on her relationship, especially her own mother. Reginae added that as much as she wants to make her mom happy, she also wants to consider what would make her own self happy.
"My thing is, I want my mom to be happy and I want to be happy, but it's like, you've got to go through things to get through things, and I'm young, and my mom, she was young and she went through this. Right now, she's with a man that respects and that loves her, but she's also in her 30s and has went through it all. I understand, 'I went through something so I'm going to tell you something so you don't have to go through it,' but who really listens?"
A Mother's Advise
By following her heart, Carter is open to the possibility of getting her heart broken repetitively. However, her mom disagreed. Being the protective mom that she is, she shared that her daughter doesn't need to undergo any unnecessary hurt.
"Find her a respectful young man that's going to treat her like the queen she is. I've been there before and I try to let her learn from her own mistakes and things that she's going through because the best experience is the things you actually go through yourself, life experiences. I think now she's growing."
On-and-Off Relationship
Back in February, people thought they've seen the end of Reginae's relationship to YFN, as they deleted their photos together on Instagram, and she began posting cryptic messages as well.
Soon after, she tweeted "Alexa play "how to love" by Lil Wayne," a song of her dad to possibly hint Lucci to learn a thing or two from Lil Wayne on how to show some love.
However, this new interview of hers is clear that they were ultimately able to work things out and are just trying to enjoy their lives as it is.
Please fill in your e-mail so we can share with you our top stories!