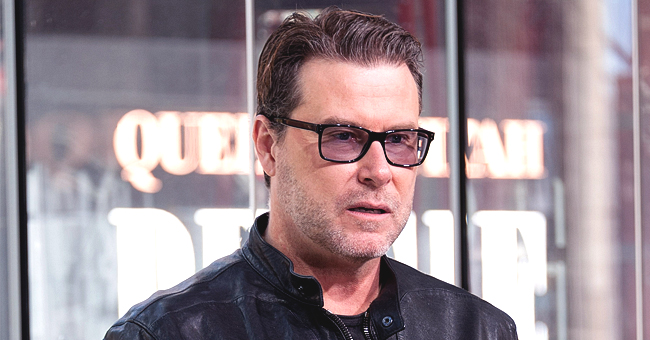 Getty Images
Dean McDermott and Tori Spelling's Children Enjoy Snacks in the Park (Photo)

Family Day Out! Dean McDermott and Tori Spelling's children enjoy snacks in a park in Vancouver, while enjoying the sights with their father.
Dean McDermott and his five children — Liam, Stella, Hattie, Finn, and Beau — had a day out while visiting Vancouver, Canada.
He shared a photo on Instagram of his happy bunch enjoying snacks at a park across Granville Island. McDermott captioned it:
"Having a snack-nic with the fam in the park across from Granville Island, Vancouver. Gorgeous day with my gorgeous kids."
He attached a series of hashtags with the words, "Blessed," "Family Fun," "Dad," and "Kids" among others
The podcast host followers applauded the beautiful family, reechoing the proud father's words that his children are gorgeous, and writing on how glad they are that he is feeling better.
McDermott cancelled an earlier trip to Canada to visit Spelling who is there shooting "Beverly Hills, 90210," due to an illness.
He shared on Instagram at the time that he had Pneumonia and possible meningitis, adding that it was the first time he had gotten so sick in his life.
After recovering, the father-of-six revealed on his podcast that his 20-year-old son, Jack, whom he shares with his first wife, Mary Jo Eustace, came out as gay when he was 17, and described him as a "Gorgeous Adonis."
The father and son duo have a close relationship despite the younger man living and schooling in San Francisco, and the relationship between Jack and Spelling is also admirable.
McDermott and the actress got married in 2006, and in June, he spoke about cheating on the mum-of-five during the premiere of his "Daddy Issues" podcast which he co-hosts with Adam Hunter and Nicky Paris.
The 2013 scandal involved the podcast host and Emily Goodhand, whom he shot "Chopped Canada" with, and the "Slasher" star blamed it on the inadequacies he felt with himself and thinking more with his male anatomy. The couple overcame it and became a stronger team.
In January, they defended their children when body-shamers called them overweight and insulted their clothes after a photo Spelling shared on Instagram.
McDermott made it clear that it was wrong to bully his children; he pointed out there was nothing wrong with his children wearing clothes from Target, and they were not overweight, but healthy and happy.
No matter the faults of the podcast host, he is a devoted father and champions the cause of his children.
Please fill in your e-mail so we can share with you our top stories!