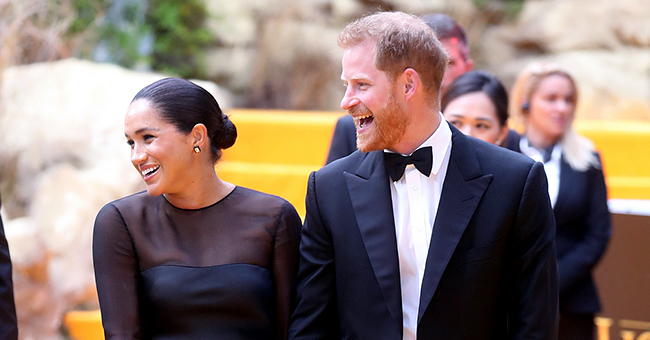 Prince Harry Reportedly Jokes He Knows 'The Lion King' by Heart
Prince Harry revealed to guests at the "Lion King" premiere that he knows the movie by heart after wife, Meghan joked about him knowing all the characters in the Disney blockbuster animation.
The Duke of Sussex was forced to open up about a secret he admittedly was not proud of at the premiere of the "Lion King" on Sunday. This secret shame is sure to give kids a run for their childhood love, and favourite animation.
THE REVELATION
Prince Harry and beautiful wife, Meghan were present at the Odeon Theatre to commemorate the release of the 2019 remake of the all-time favourite animation. The Royal pair was waylaid by two adorable twelve-year-olds, Valentina Walker and Elvie Chambers.
The cute girls, whose parents reportedly work with Disney were eager to present the royal couple with amazing presents for Baby Archie.
The Duchess was surprised by the sweet gesture as she accepted the bouquet, book and Simba toy from the little ones before engaging them in a conversation about the legendary animation.
Amidst the conversation, the Duke revealed that his favourite characters were Timon and Pumba, to which his wife added that he knew all the characters and was a huge fan. At this, the royalty chipped in that he knew the whole movie by heart, which was even sadder.
MORE THAN JUST A MOVIE
It has been reported that the Disney story about Simba and Nala was very special to the royal sweethearts. Royal expert, Nicholl Katie told ET that the movie marked the onset of the royal pair's love story as they saw the Broadway version of the movie for their first date.
This should explain why the song, "Circle of Life" extracted from the animation was played at their wedding. Coupled with the Prince's love for wildlife, shown through his numerous support for Wildlife Conservation projects in years past.
WHO IS THE BIGGEST FAN?
With the Duke's revelation about his love for the iconic story, one might be tempted to name him the Lion King's biggest fan. Sadly though, the father of one has competition for that title within the royal family.
In 2017, Harry's elder brother, Prince Williams stated that his son, Prince George was a fan and "quite liked" the film, which they had seen a few times thanks to him. But then again, what's a few times compared to the Duke of Sussex who has seen the movie over twenty times and knew it all by heart?
Please fill in your e-mail so we can share with you our top stories!