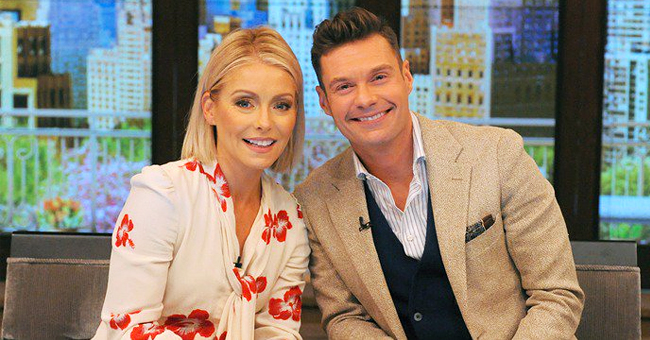 twitter.com/enews
Kelly Ripa Reacts to Ryan Seacrest's Adorable Childhood Photo
Kelly Ripa had an epic reaction to her co-host, Ryan Seacrest's throwback photo from his childhood.
Kelly Ripa and Ryan Seacrest of "Live! with Kelly and Ryan" are fascinating people to watch on the daytime talk show, and their amazing on-air chemistry has left their audience entertained.
The co-hosts' great relationship extends to when they are not on "Live!" and they consistently leave each other funny comments on their social media posts.
In the photo, which the "American Idol" host captioned "Waiting on mum to get off the phone so I can explore the world wide web," a young Seacrest smiled for the camera with his left hand under his chin and the right resting on the keyboard.
The comment most likely suggests that the Georgia native's pose, looked like a scene from a movie, but neither Ripa, Seacrest, or his followers, named the film, so the jury is still out on it.
Seacrest who joined "Live!" after Michael Strahan left the show has a lot of things going for him recently. The radio host is in line to join 2019's inductees into the Radio Hall of Fame, and his co-host is campaigning for him.

instagram/@kellyripa
Ripa shared on social media a video of the TV personality bouncing a baby in his lap to endear him to voters, and since the listeners' nominated the "On Air with Ryan" host, it's in their power to make him an inductee.
The Ryan Seacrest Foundation creator is also in between relationships since he broke things off with Shayna Taylor early this year.
In June, he vacationed in France alongside "America Next Top Model" alum, Larissa Schot, but according to the Daily Mail, the New York resident got photographed walking hand-in-hand with a new mystery woman in the big apple.
Seacrest has neither confirmed nor denied the relationship rumors trailing him, but he revealed to Ripa on Wednesday that he once clogged Kris Jenner's toilet.
The E! red carpet host is the executive producer of KUWTK and was instrumental in getting the show on the E! network.
Seacrest is also a philanthropist; he uses his foundation to provide entertainment and multimedia productions to children's hospitals across the US, and the TV personality loves a good bottle of wine.
In all the years he has been a media personality, a lot of things has changed about Ryan Seacrest, but he has maintained his boyish charm and cute smile, and relates with everyone, either fan or celebrity in the same way.
Please fill in your e-mail so we can share with you our top stories!