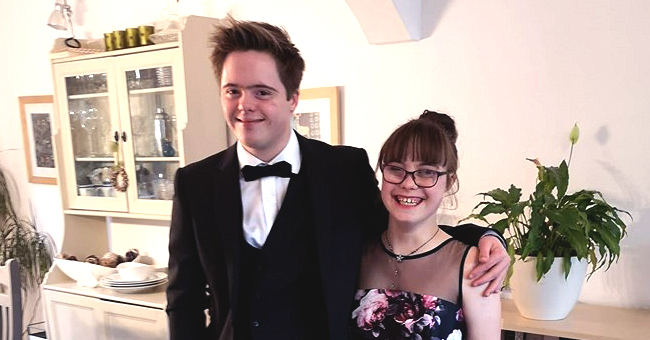 facebook.com/Katharina Barker
16-Year-Old Couple with Down Syndrome Were Crowned Prom King and Queen
The couple started dating in March and were greatly surprised when their classmates chose them to be the honored couple for their graduation party.
Dylan Hughes and Amelie Barker are both 16 years old and they are in love. Their friends think this beautiful couple don't need anything else to be happy, because they have each other.
However, their classmates found a way to give them more happiness. Dylan and Amelie were surprised with the great news of having been chosen as the King and Queen of this year's Prom.
The couple have known each other since they were 3 years old and are currently studying at Monmouth Comprehensive School, in Monmouthshire, Wales.
The romantic teenagers expressed their content after being chosen as the King and Queen of the end of the year dance by their schoolmates, one day they will never forget.
Dylan and Amelie met when their mothers coincided in a special Plus 21 charity event for parents and children with Down Syndrome, explains Dylan's mom Victoria Hughes.
They attended different elementary schools but met again at Monmouth Comprehensive School, where they became very good friends.
During the last 18 months, they became closer and closer until one night Veronica received the proposal from her son Dylan that he wanted to take Amelie to eat pizza but they two alone, on a date. Veronica felt that it was a great idea and she supported them.
Veronica warned the restaurant that the young couple would go visit them for dinner and she waited in the car until their date ended.
The couple have also went to the movies and have spent many afternoons together. Victoria shares that they have been serious enough in declaring their true and forever love to the world.
All their classmates (about 1600) consider them a beautiful and tender couple and they had a nice surprise for them the day of the prom. And the couple could not be anymore happier and excited to have been chosen as King and Queen.
They were not just the only couple with Down Syndrome, but they are also very sweet and the most popular sweethearts at school.
Like every mom, Victoria is very proud of her son. She has taught Dylan that he can do whatever he wants to do and that being a young person with Down syndrome doesn't mean that he can't finish high school, attend and finish university, and live independently.
Perhaps wedding bells will sound soon for this young couple who have big plans for their lives. Amelie plans to attend the College next year while Dylan plans to focus on his career as a sportsman.
Dylan is a swimmer and his dream is to represent Great Britain at the Down's syndrome Swimming World Championships in Canada and is getting ready to compete in the European Championships in Sardinia.
Please fill in your e-mail so we can share with you our top stories!