Cecily Chapman Shares Never-Before-Seen Photo of Beth from Her School Yearbook
Cecily Chapman shared a picture of her mother Beth from high school and we don't think we've ever seen the late bounty hunter so young. 
Beth Chapman's daughter Cecily still has her mother at the forefront as she continues sharing memories with fans on social media. Beth, who died on June 26, was loved by many following her lengthy stint on television alongside her husband.
We've never seen Beth at such a young age
Her daughter was especially torn apart by the loss and dug up some old high school yearbook photos of Beth as she honored her once again on her Instagram stories. The photo is found below. 
On Wednesday, the 26-year-old shared a greyscale photo of a smiling Beth sporting full frontal bangs for a high school yearbook shot. Cecily wrote "Mom" in cursive above the never-before-seen photo. 
The sky told a story to those of faith
Two days prior, Cecily shared another photo that had many fans thinking of her mother's presence in heaven. A shot of the sunset in Castle Rock, Colorado showed a pearl-colored cloud in the sky.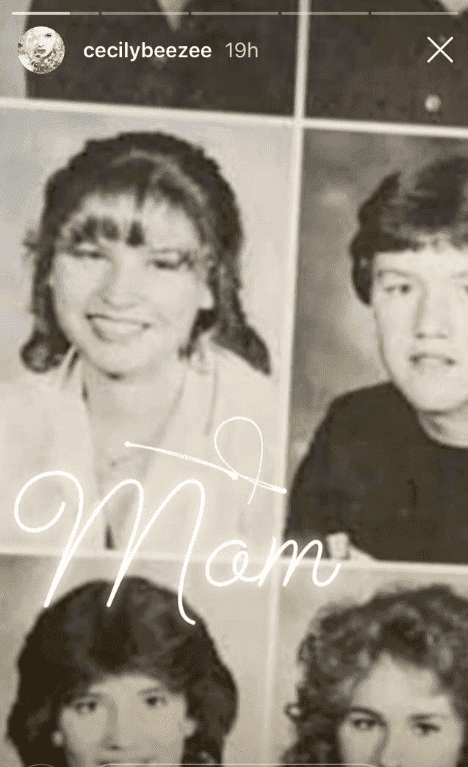 Several people insisted that Beth was looking down on her daughter and the gorgeous sky was a sign, along with the Mercedes-Benz that was featured in the shot as well. 
The car was apparently similar to Beth's own before she passed, as several fans pointed out in the comments. "Signs everywhere," user joiegammons somberly concluded. 
Beth's daughter remembered her mother in a unique way
Beth's family organized two memorial services to honor her. The first was held in Hawaii and the second in Colorado, not too far from where Cecily reportedly took the above picture. 
Before the second memorial, Cecily again posted a throwback of Beth, this time showing just her manicured nails, a signature look of the late bounty hunter. "My heart is so heavy," she wrote. The next day, Cecily showed off her own done up nails. 
"Cried the whole time but it was totally worth it iLy @nailsbydanny & @mrsdog4real," she wrote in the caption. She reportedly did her nails at the same place Beth went to shortly before her death. 
She also showed off a similar style of forest green rhinestones which Beth sported as she lay on her death bed before she passed. After the memorial, Cecily imitated her late mom once again. 
Even without trying, she embodies her late mother
She wore a black dress and wide-brimmed hat and fans quickly noticed how similar Cecily looked like Beth in the ensemble. "You look like your mommy very beautiful!" said one commenter named Susana Lopez, who received 76 likes. 
Beth died of throat cancer which returned in November 2018. Her first diagnosis of the disease was in late 2017, but surgery did away with it within a couple of months. She chose not to undergo chemotherapy after the second diagnosis.
Her husband Duane "Dog" Chapman was with her in marriage for over a decade before he lost her, and he was crushed by it. During both memorials, an emotional Duane gave tear-filled speeches about the love of his life. 
Thanks to her husband, Beth will never be forgotten
The two share two children together, Bonnie Joanna Chapman and Garry Chapman, but they each have kids from previous relationships. Cecily is Beth's daughter from hers. She also has a son named Dominic Davis. 
The couple became household names in 2004 when they debuted the show "Dog the Bounty Hunter," an A&E reality series that stayed on the air for eight seasons and had a few spin-offs. 
Even after Beth's second and final diagnosis, the pair shot a new show, "Dogs Most Wanted," which is expected to air on WGN in a few months. Beth died in her home state Hawaii after she entered a medically-induced coma and never woke up.