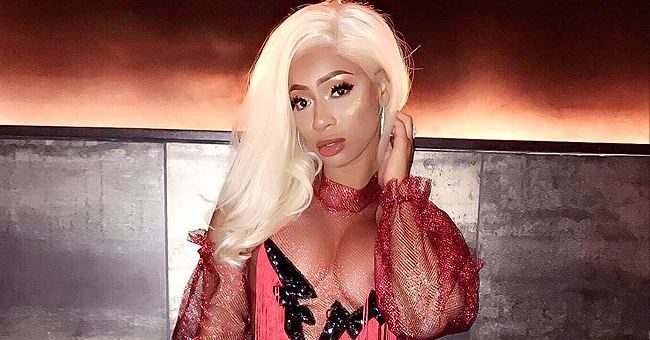 instagram.com/tommiee_
Tommie Lee Claims Altercation with Daughter Was Because She 'Took Edibles to School'

Tommie Lee explains the incident that led to her arrest and charges of child abuse last year. She reveals she was prompted to violently react to her daughter after learning kids in school got sick because of edibles she brought to the premises.
"It wasn't like that at all," Tommie Lee says of the violent altercation she had with her daughter last year which resulted in her arrest.
The rapper opened up about her side of the story in a recent interview with "The Breakfast Club" and defended her actions by claiming it was to discipline her child.
THE ABUSIVE INCIDENT THAT RESULTED IN HER ARREST
Lee made the headlines back in October when she was indicted for child abuse after a violent outburst in her 11-year-old daughter's school.
She reportedly stormed the premises and went after the pre-teen, hitting her in the face and dragging her by the hair and ultimately slamming her head against a locker.
The scene was caught on camera prompting authorities to arrest Lee and charge her with felony aggravated assault, simple battery, first-degree child cruelty, and disruption of public schools. She faced 54 years in prison if convicted.
Lee managed to escape prison time by pleading guilty to the charges and adhering to restrictions and provisions set by the court as part of her 10-year-probation sentence.
"IT WASN'T LIKE THAT AT ALL"
Months later, she's now speaking up about that episode and why she reacted to her child the way she did.
"This whole situation really took a toll on me … You know how reports go, it was a lot put on that and it wasn't like that at all," the "Love and Hip Hop Atlanta" star began.
She went on to explain that she's been getting a lot of reports from her daughter's teachers about her problematic behavior. The final straw was when she learned her 11-year-old brought marijuana edibles to school which sent kids to the hospital.
"My daughter took edibles to school and she got a charge from that. She took them to school, all the kids ate them, and basically, they called me [and told me that] all the kids were rushed to the hospital. That was a real (sic) big deal for me [because] I was arrested when I was 15-years-old as a runaway and that's how I started my record; [by] being arrested as a runaway. … It really hindered my life."
'THAT'S THE FIRST THING THAT CAME TO MY MIND"
Lee further explained that despite her frequent warnings to her child to lead a straight path in school and just focus on her studies, she would continue to cause trouble.
It was on the third time her daughter's teacher called her that Lee decided to take matters into her own hands.
"I got my a– whipped in school. My mother whipped my a– in front of the gym. She whipped my a– in front of everybody. So that's the first thing that came to my mind. 'I'm going to embarrass her in front of everybody so she won't be embarrassing this teacher, or disrespecting this teacher.' That's what I thought."
Lee has a reputation of being an alcoholic, something she proved true when she appeared in her child abuse court hearing inebriated.
"WE DON'T HAVE THAT TYPE OF RELATIONSHIP"
Lee admits she's not one to get physical in disciplining her children.
"Whippings are a last resort for me. I can count on my hand how many times I've had to get physical with [my kids. We don't have that type of relationship."
But apparently, that was one situation that got out of hand.
ON BEING AN ALCOHOLIC
Lee has a reputation of being an alcoholic, something she proved true when she appeared in her child abuse court hearing inebriated.
As part of her plea deal, she was banned from attending events with alcohol and drugs and was prohibited from traveling outside of Georgia without permission.
Lee assured Hot New Hip Hop in April that she isn't an alcoholic. She admits battling the urge to drink but not enough to classify her as such. She also reveals she's four months sober and ready to make new music.
Please fill in your e-mail so we can share with you our top stories!